It is Wednesday, so "What is in the Attic with Jim"?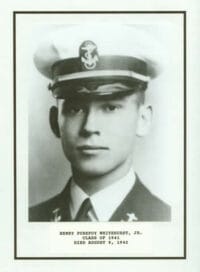 In 2000 we received a photo and letter from 82-year-old Volkert Veeder regarding his roommate at the US Naval Academy, Henry Purifoy Whitehurst Jr. Both are on display at the New Bern Historical Society, 511 Broad Street.
Henry attended The Citadel for a year before transferring to the US Naval Academy from which he graduated in 19 December 1941. He was a member of the Class of 1942. He and his parents, Henry Sr. and Robbie Samms Whitehurst, and his sister, Mary, lived on Johnson Street in New Bern.
Whitehurst served as a junior watch and division officer on the Astoria as that ship took part in the Battles of the Coral Sea and Midway, and was in the cruiser when she participated in the landings on Guadalcanal on 7 August 1942. Henry was killed 9 August 1942 when his cruiser, the USS Astoria, was sunk at the Battle of Savo Island. The USS Whitehurst DE-634 was named in his honor.

Whitehurst is memorialized in the Tablets of the Missing in the Manila American Cemetery, Philippines. There is also a memorial at Cedar Grove Cemetery, New Bern, in his name (Find a Grave # 25315695).