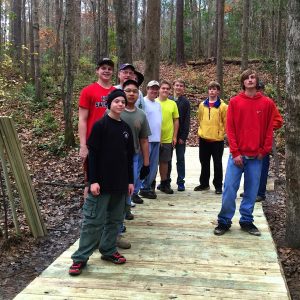 New Bern Battlefield Park
Guided tours of the New Bern Battlefield Park are $5 per person and can be arranged by appointment when calling the Historical Society office, 252-638-8558.  Guided tours can also be arranged and tailored especially for military units and school groups (best suited for 5th graders and above or after they have studied the Civil War). Prices for student groups are generally $2 per student and $4 per adult; special military rates are also available.  Please contact the office at 252-638-8558 for more information.  A self- guided pamphlet tour of the battlefield can be downloaded or picked up at the battlefield.  A History Walk and Gateway Plaza with a focus on interpretive signage, completed in October 2015.  The Gateway Plaza leads to a unique 20 foot diameter color ground map and signage that provides an overview of the battle and a starting point for tours.  Around the Visitors Center and along the battlefield trails are arrayed 36 interpretive panels that recount the Battle of New Bern and the impact of the Civil War.
Attmore-Oliver House
The Attmore-Oliver House is open to the public, September-June 10:00am-4:00pm, M-F, and July-August 10:00am-4:00pm, M-Th and 10:00am-1:00pm F. There is a self-guided pamphlet tour of the Attmore-Oliver House and its Civil War exhibit. Click on Attmore-Oliver House self-guided tour to download the tour.
Other tours
Tours of Cedar Grove Cemetery are offered the first Saturday of the month at 4:00pm, April-November through The Questers International. Tours of Cedar Grove Cemetery are $10 and paid at the cemetery entrance upon arrival. All proceeds go to the Earl of Craven – Questers, a local branch of Questers International. 100% of the proceeds are used to preserve Cedar Grove Cemetery. Questers International is a non-profit 501(c)(3) organization.  For more information visit their Facebook site.