Special Events for Members and Volunteers
Volunteer Appreciation and New Member Social
If you have volunteered for or sponsored any program or event since last May ~ or ~ if you recently joined the Society, this party is JUST for you! The social is normally held on a Sunday afternoon in May on the beautiful, shady south lawn of the Attmore-Oliver House. There you can sip our signature Sangria, assemble a special sundae, sample a savor snack. Enjoy live music, door prizes, games and fun! 
Annual Mardi Gras "Friendraiser"
Encourage your friends to join the Society!
New members and sponsors of new members attend free of charge.  It's the "best deal in history!"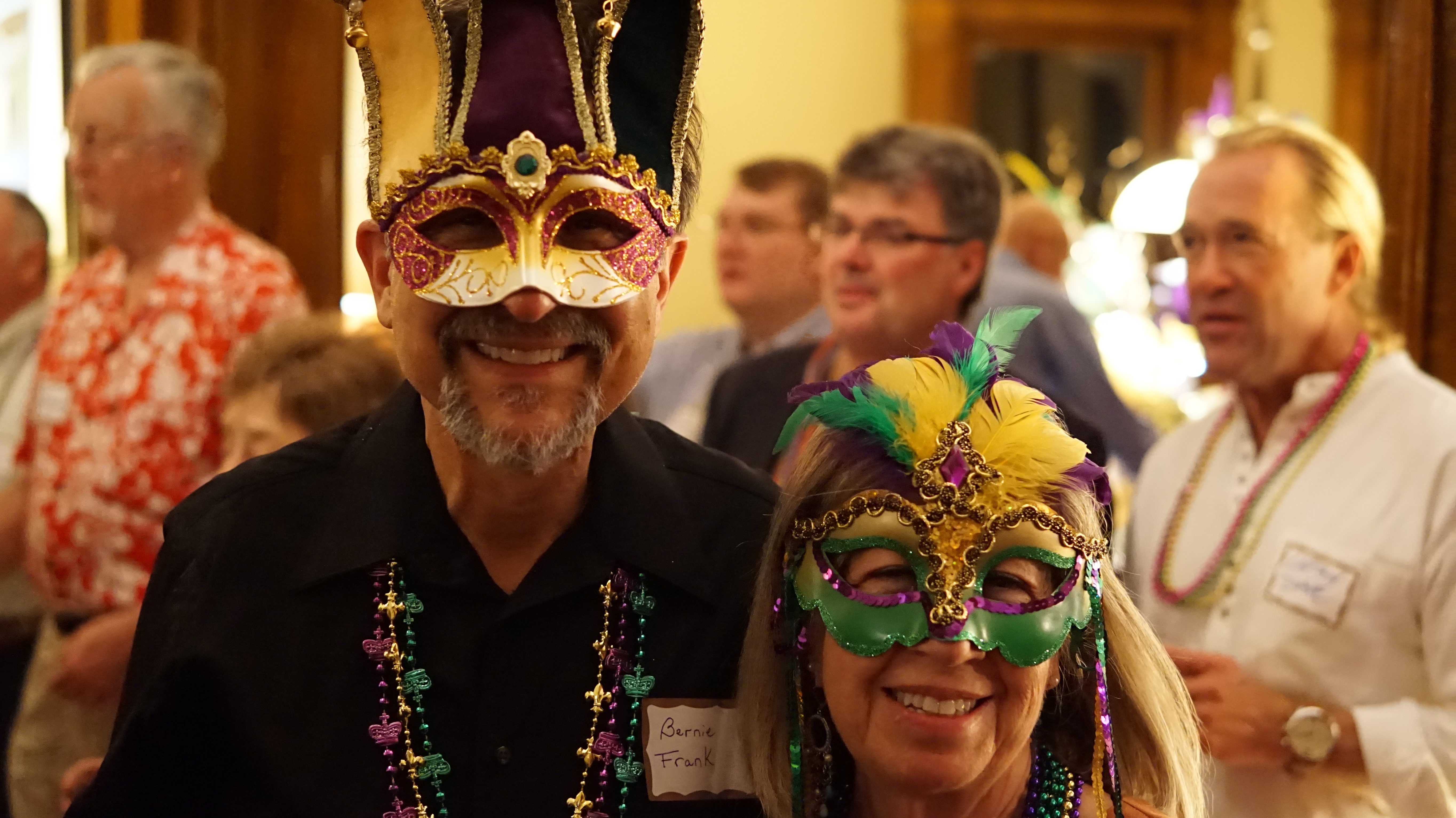 Our annual Mardi Gras Friendraiser is typically held at the historic William B. Blades House in February. This is a ticketed event for our membership and anyone who chooses to join the Historical Society before that day. The house is beautifully decorated for the occasion, the hors d'oeuvres and desserts are delicious, plentiful, and elegantly served, and the evening is filled with cheer. It is a much anticipated event. Creative masks, colorful beads, amazing decorations, great food, and prizes for best bling! Space is limited so reserve early.
2018 Volunteer Award Winners
L to R:  Mickey Miller - Executive Director; Nelson McDaniel - President's Award; Walt Teasdale - Newcomers Award; Linda Lore (seated) - Extended Service Award;  John Leys - Lifetime of Service Award; Patti Urick - Executive Director's Award; Bernard George - Education Award; Annette Hunt -Ambassadorship Award; Joe Hunt - President.  Not pictured:  Ray Cahoon -  Battlefield Award; "Earth Angels" Marge Foskit, Pat Shankle, Dottie Webb - Ambassadorship Award.
Annual Meeting & Awards Banquet
The Society's Annual Banquet for members is held at the beautiful New Bern Golf and Country Club each spring. A silent auction during the cocktail hour offers gourmet baskets, hand-crafted artifact jewelry, and other exciting choices. Following entertainment and dinner is a brief business meeting at which new directors are elected, the annual Marks Scholarship recipient is announced, and volunteers who have shown exemplary service are recognized with special awards.