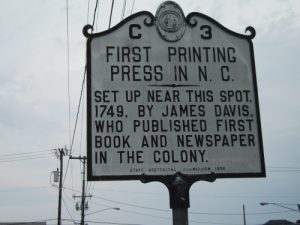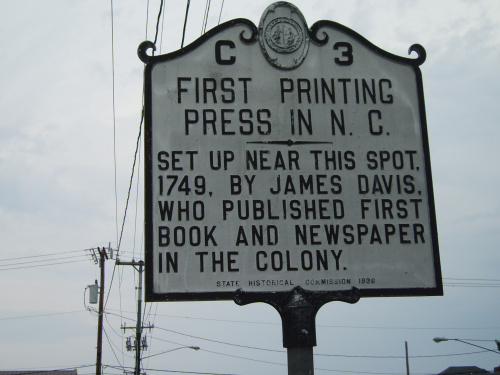 Explore New Bern's Historical Markers

Explore New Bern's rich and diverse history by viewing our many historical markers located throughout the historical districts and in neighboring James City.  With over 1500 historical markers throughout the Tar Heel State, North Carolina's Historical Marker Program is one of the oldest such programs in continuous operation in the United States.
John Wright Stanly House
Marker (C-1) is located on George Street
The house of John Wright Stanly, entrepreneur and patriot, embodies historical significance and architectural grandeur. Although Stanly purchased land to build upon in 1779, it was not until 1787 that the residence was completed. Many consider the house in New Bern the finest example of late Georgian architecture in the state. Much like the man who built it, the Stanly House was important in both New Bern and North Carolina history.
John Wright Stanly was born on December 18, 1742, in Charles City, Virginia. A successful merchant, Stanly became wealthy through maritime trade during the Revolutionary War and contributed large sums of money to the Patriot cause. After the war, Stanly turned to civil matters and was named first president of New Bern Academy. In 1789, both John and wife Ann Cogdell died of yellow fever, leaving the house to eldest son, John Stanly, who took legal possession in 1798 when he reached majority. During the time between Stanly's death and his son's acquisition of the house, it remained vacant. On George Washington's southern tour, the president visited New Bern for two days in 1791, and was entertained at the Stanly house and at nearby Tryon Palace.
John Stanly Jr., born in New Bern in 1774, was a prominent politician, serving terms in Congress and eventually as Speaker of the North Carolina House of Representatives. In recognition of his political contributions, Stanly County was named in his honor. Stanly is infamous for the murder of former North Carolina governor Richard Dobbs Spaight in a duel behind the Masonic lodge in New Bern on September 5, 1802. Spaight's murder prompted North Carolina to pass legislation banning duels, although such acts of rivalry and honor were common until well after the Civil War.
The house has connections to both sides of the Civil War. Confederate General Lewis A. Armistead was born in the house in 1819. While Union forces occupied New Bern, General Ambrose E. Burnside used the house as his military headquarters. From 1935 until 1965, the Stanly House served as New Bern's public library, and was moved to its current location near Tryon Palace in 1966. It was opened to the public as a historic house museum in 1972. John Wright Stanly was buried in an unmarked grave in Christ Episcopal Church in New Bern, as were his wife and son.
---
Tryon Palace
Marker (C-2) is located on George Street
There are few places where the present meets the past in such luxury and decadence as Tryon Palace in New Bern. Named for colonial governor and first resident William Tryon, the mansion housed the last colonial governors and the first state governors. Tryon Palace not only stands as a reminder of North Carolina's rich historical legacy, but also represents the first major public history restoration project, a historic site that allows the people of North Carolina to interact with their past.
The first governor's mansion in North Carolina was unlike any other structure in the region. Designed and built by Englishman John Hawks, considered by many to be the first professional architect in America, the Palace originated with planning began in 1766 and with construction commencing on August 26, 1767. Hawks designed the mansion in the Georgian style, with a heavy English influence of symmetry and balance. With construction complete in 1770, the Tryon family was in residence less than two years, when William Tryon left to assume duties as governor of New York.
Tryon Palace served as the backdrop for the transformation from colony to statehood. In May 1775, then Royal Governor Josiah Martin fled as patriot forces approached New Bern. After the first state constitution was ratified in November of 1776, the first state governor, Richard Caswell, occupied Tryon Palace. Successive governors Abner Nash, Alexander Martin, and Richard Dobbs Spaight resided in Tryon Palace until Raleigh became the new capitol in 1794. Tryon Palace also hosted George Washington on the night of April 21, 1791, during his southern tour. After a cellar fire destroyed all but the kitchen and stable offices in 1798, most of the original land was utilized in highway and housing developments.
In the latter part of the first half of the twentieth century, public interest and private donations convinced the state to consider the feasibility of restoration, a project the Tryon Palace Commission began in 1945, and concluded in 1959 when the palace, restored to the original design, opened as a public museum. With gardens showcasing over eighty types of flora across fourteen acres, and interior furnishings inspired by original period pieces, Tryon Palace remains a tribute to North Carolina's enduring historical legacy.
---
First Printing Press in North Carolina
Marker (C-3) is located on Broad Street near the intersection of Middle Street
The printing press, with its potential for increasing the speed of transmission of the written word, was somewhat slow in reaching the province of North Carolina. The establishment of a press in the state capital of New Bern was due in large part to the actions of governor Gabriel Johnston and printer James Davis. The first printing press enabled North Carolina to publish uniform law codes and allowed citizens to distribute information at a speed that was otherwise impossible.
Although printers had been active in some colonies for over 100 years, North Carolina became the ninth colony to acquire a public printer in 1747. It was not until the grievances of governor Gabriel Johnston in 1736 that North Carolina's General Assembly voted to begin the process of hiring a printer and press.
North Carolina had been slow to acquire such technology for several reasons. The provincial government, having grown accustomed to North Carolina's slow communication lines, was afraid of the challenges to their authority which the printed word presented. In addition, since North Carolina's economy was based on agriculture, the rural colony did not possess the dense populations that other cities relied on to finance an investment such as a printing press. Lastly, as there had been facilities at Virginia and Charleston since 1737, those in North Carolina found it easy to send print requests out outside the colony.
In 1734 Gabriel Johnston complained to the General Assembly that he was unable to find a complete copy of the 1715 public laws anywhere in the state, and that most counties had erroneous copies if any at all. This prompted the Assembly to approve a public printer for North Carolina, and in 1747, Johnston appointed James Davis (1721–1785), a printer trained by William Parks of Williamsburg, Virginia. Although Davis' first task was likely the printing of currency, in 1749 he printed the first official publication, the Journal of the House of Burgesses of the Province of North Carolina.
Davis went on to serve as public printer until 1782, with the exception of a five-year hiatus. James Davis also created and sustained the colony's first newspaper, the North-Carolina Gazette, from 1751 until his death in 1785. At the start of the American Revolution, Davis allowed anti-British sentiment free reign over the opinion columns of the Gazette. Although he was appointed to various political positions during his life, James Davis is best remembered for publishing the first newspaper and imprint in North Carolina.
---
Abner Nash
Marker (C-5) is located on State Route 1146, just outside of New Bern in James City
Abner Nash (ca. 1740-1786) succeeded Richard Caswell to become the second governor of the young state. He was born in present-day Prince Edward (then Amelia) County, Virginia. Of Welsh extraction, he was the son of John Nash and the former Ann Owen. Though little is known of his educational background, he began the practice of law in 1757 and, in 1761-1762, represented Prince Edward County in the House of Burgesses. Nash was first married to Justina Davis Dobbs, the widow of Governor Arthur Dobbs. His second marriage was to Mary Whiting Jones of Chowan County.
Soon after leaving the Virginia legislature, Nash moved to North Carolina, residing briefly in Hillsborough and Halifax. Experiencing success in both law and politics, he represented the town of Halifax and Halifax County in the North Carolina assembly in 1764-1765 and 1771, respectively. In the early 1770s Nash relocated to New Bern, the seat of royal government, where his professional and public careers prospered. Moreover, as tensions with Great Britain mounted, Nash distinguished himself as a leading and zealous advocate for the Patriot cause. Indeed, when Governor Josiah Martin fled from New Bern for his own safety, he singled out defiant Nash for special censure.
From 1774 to 1776 Nash was a delegate to each of North Carolina's five provincial congresses, while also serving as a member of the Provincial Council. In 1777 he represented New Bern in North Carolina's first General Assembly as an independent state, serving as speaker of the House of Commons. During the two following years, he remained in the lower house of the legislature as a representative of Craven County. In 1779 and 1780 Nash sat for neighboring Jones County in the state Senate, serving briefly as speaker. On April 20, 1780, he resigned his seat upon his election as governor.
As chief executive Nash drew upon every resource to support the national war effort while protecting North Carolina against British attack from the south. Like Caswell before him, he found his constitutional powers woefully inadequate to the task that lay before him. Responding to his pleas, the legislature created an emergency Board of War to assist him; but Nash soon found that the Board's creation had weakened his powers even further. Bitterly, he complained that "men, not knowing whom to obey, obeyed nobody."
In August 1780 the disastrous defeat of Patriot forces at Camden rendered circumstances still more desperate, for North Carolina now lay open to invasion by Cornwallis' army. Eventually, the tide of war began to turn following the battles of King's Mountain and Guilford Courthouse, but the exhausted and frustrated Nash had no desire to serve longer in a position he considered untenable. When nominated for reelection in June of 1781, he cited "excessive Fatigues" and "want of health" in asking that his name be withdrawn from consideration.
Despite his departure from the governorship, Nash remained active in public life on both the state and national levels. He returned to the House of Commons in 1782 and 1784-1785; and three times accepted election to the Continental Congress (1782, 1783, and 1785), where he came to recognize the pressing need for a stronger central government. It was while attending Congress that Nash died in New York City, on December 2, 1786. Initially buried there in St. Paul's churchyard, he was later moved to the cemetery of his Craven County plantation, "Pembroke."
---
William Gaston
Marker (C-6) is located on Broad Street at the intersection of Craven Street, one block from his home
William Gaston—poet, politician, and lifelong student of the law— was a leading figure in nineteenth century North Carolina politics. Through an extended and distinguished career of public service, Gaston began his life's work creating laws and finished by interpreting them. An ardent federalist, he supported a federal banking system, and vehemently opposed American expansionist philosophy, prominent during his lifetime. As a significant contributor to religious freedom and abolitionist movements, Gaston led North Carolina with a steady hand through some of the most arduous periods of United States history.
William Gaston was born on September 19, 1778, to Alexander and Margaret Gaston, in New Bern. His father, an Irish immigrant who became a steadfast patriot during the Revolutionary War, was murdered by Tories when William was only three. After graduating from New Bern Academy in 1794, Gaston attended New Jersey's Princeton College, graduating in 1798. Returning to New Bern, he studied under prominent lawyer Francois Xavier Martin, and was admitted to the bar later that year.
In 1800, Gaston transitioned from law to politics with his election to the State Senate, where he became a key figure in the Federalist Party. He served as Speaker of the North Carolina House in 1808, and was elected to the United States House of Representatives in 1813. An ardent opponent of the War of 1812 and the expansionist movement in general, Gaston strongly supported John Quincy Adams in his presidential campaigns against North Carolina native Andrew Jackson. In 1833, Gaston was appointed to the State Supreme Court, where he championed the abolitionist cause, though himself a slaveholder. Himself a Catholic, he helped guide the Constitutional Convention of 1835 to a provision that eliminated a long defunct law that prohibited Catholics from holding public office.
In his twilight years, Gaston remained a court justice while occasionally embarking on the lecture circuit. An eloquent speaker and prolific writer, he was often asked to deliver commencement speeches and was popular among philanthropic societies. Gaston is perhaps most famous for his poem, "The Old North State," which he penned in 1840. Later it was set to music and adopted as the state song in 1927. Gaston died in his office on January 23, 1844, and is buried in New Bern's Cedar Grove Cemetery. Gaston County (est. 1846), the city of Gastonia (inc. 1877), and Lake Gaston are all named in his honor. William Gaston offered North Carolina a radiant example of a life dedicated to public service.
---
Richard Dobbs Spaight
Marker (C-7) is located on State Route 1146, just outside of New Bern in James City
Richard Dobbs Spaight (1758-1802), a signer of the United States Constitution and the first native-born governor, was the father of Richard Dobbs Spaight Jr., who served as governor, 1835-1836. Of Irish extraction, the elder Spaight was born in New Bern on March 25, 1758, to Richard and Elizabeth Wilson Spaight, and was distantly related to Governor Arthur Dobbs. Orphaned as a boy of nine, Spaight received his preparatory education in Ireland and is thought to have graduated from the University of Glasgow. His wife was the former Mary Jones of New Bern, whom he married in 1788.
Returning to North Carolina during the early stages of the Revolution, Spaight served as a military aide to Governor Richard Caswell. Early on, however, his energies and ambitions were directed primarily toward politics rather than warfare. From 1779 through 1783 and the winning of independence, Spaight represented New Bern in the state House of Commons. Following two years as a delegate to the Continental Congress (1783 to 1785), he returned to the House of Commons from 1785 to 1787 and in 1792. In 1785 he served as speaker of the House. Following his governorship, he served in the state Senate in 1801 and 1802.
As a prominent Federalist leader, Spaight was one of five delegates from North Carolina to the Constitutional Convention in Philadelphia in 1787. Following an active role in the Convention, he signed the Constitution; and in 1788 he argued forcefully but unsuccessfully for its ratification at the state Constitutional Convention in Hillsborough. Never a robust man, Spaight was plagued by poor health which forced him from public life from 1788 to 1792, when he was returned to the state House for a final term. On December 11 of that year he was elected governor by his fellow assemblymen after four days of balloting. Twice reelected, he served the maximum three consecutive terms.
Spaight was the first governor to convene the General Assembly in Raleigh. Much of his role as Chief Executive was played against the backdrop of war between England and France. Although he supported President George Washington's proclamation of neutrality, strong Republican support for France existed in the state's seaports, especially in Wilmington. In 1794 Spaight's appeal to the General Assembly resulted in the mobilization of the state's militia forces and the strengthening of coastal fortifications. Other issues during Spaight's administration included the ongoing settlement of financial accounts with the federal government, the negotiation of lingering border disputes with South Carolina, and the threat of Cherokee uprisings in the mountain region. In 1795 he presided over the official opening of the University of North Carolina.
Post-term, Spaight returned to New Bern and the life of a wealthy planter, but in 1798 he was elected to the United States House of Representatives. There he remained until 1801 and his election to the state Senate. For several years following ratification of the federal Constitution, Spaight had found himself increasingly inclined toward Jeffersonian Republicanism. His final conversion to that political philosophy stemmed largely from his opposition to the Alien and Sedition Acts. In 1802 he became embroiled in a bitter personal rivalry with the ardent Federalist and fellow New Bernian, John Stanly. On September 5th of that year the two men fought a duel in which Spaight was seriously wounded. He died on the following day, in the forty-fifth year of his age, and was buried in the family cemetery at Cleremont plantation.
Richard Dobbs Spaight Jr. (1796-1850) was the son of Richard Dobbs Spaight, governor from 1792 to 1795, and was the last governor to be elected by the General Assembly. His mother was the former Mary Jones Leech of New Bern. The younger Spaight was educated at New Bern Academy and the University of North Carolina, graduating with high honors from the latter institution. In 1818 he was admitted to the bar and the following year represented Craven County in the House of Commons. Spaight then served in the state senate from 1820 to 1822, U. S. Congress from 1823 to 1825, and again in the state senate from the time he returned from Washington until he became governor in 1835. He never married.
At the state constitutional convention of 1835, while still a state senator from Craven County, Spaight served as chairman of the Rules Committee. Although the convention altered the way in which the governor would be elected in the future, the General Assembly was to elect the Chief Executive one last time. They elected Spaight. The following year, in 1836, as the Democratic gubernatorial nominee in the first popular election under the new constitution, Spaight was defeated by Edward Dudley. Typical of many candidates of that era who attempted to portray their interest in public office as a reluctant willingness to serve, Spaight declined invitations to banquets and rallies. The result was an unenthusiastic campaign that was not well received by the voting public.
After his gubernatorial loss, Spaight retired from politics and returned to his law practice in New Bern. He never held another public office. Income from his farms and other real estate holdings furnished him with the means necessary to practice law, primarily for charitable purposes. It was said that he continued his law practice not for professional success but because he enjoyed intellectual discussions of legal matters with colleagues. Spaight was an active Mason from 1822 through his governorship and beyond. He remained devoutly active in the state's Grand Lodge when his local St. John's Lodge fell into periods of inactivity. Spaight served the Freemasons as Grand Lecturer from 1833 through 1838 and as Grand Master in 1830 and 1831. He held various other offices and served on committees in St. John's and the Grand Lodge, being as well versed in Masonic law as with the laws of the state. Spaight was also a member and vestryman of Christ Episcopal Church in New Bern.
Richard Dobbs Spaight Jr. died on November 17, 1850, and was buried in the family plot at Clermont Plantation, across the Trent River from New Bern. When the General Assembly meeting in Raleigh learned of Spaight's death, they respectfully adjourned in his memory.
---
Baron de Graffenried
Marker (C-10) is located on East Front Street
Baron Christoph von Graffenried, founder of New Bern, was born in 1661 in Bern, Switzerland, and studied at the University of Heidelberg and the University of Leydon. In 1708, he relinquished his office as a minor government official because he wanted to find fortune in America. Franz Ludwig Michel and Graffenried joined the Ritter Company and, with help from the Lords Proprietors of Carolina, made plans to take immigrants from Switzerland to the new colony of North Carolina.
Graffenried's political abilities served him well when he convinced the Ritter Company to broaden its original plans and include Palatines in the voyage. The Palatines had been displaced from their homes in Germany because of their Protestant religious beliefs. Settlers viewed immigration to the New World as appealing because the Lords Proprietors offered them advantageous terms of healthy climate and unrivaled fertile soil.
In 1710 ninety-two Palatine families (about 650 people) voyaged to North Carolina to begin settling the land that Graffenried had secured. In September of that same year, Graffenried traveled to the colony with 156 Swiss settlers. Surveyor and explorer John Lawson accompanied the party to New Bern and laid out the town.
Once the settlers arrived, they realized there had no protection against the Tuscarora Indians, who were fiercely protective of their land and felt the settlers were invading their territory. Many of the Swiss settlers were massacred. The Indians captured Graffenried and Lawson. Graffenreid was released but Lawson was burned at the stake. Once Graffenried was returned by the Indians, he traveled to Virginia to ask the Governor for military aid against the Tuscarora Indians. After failing to receive help and realizing he was out of money, he decided to go back to Switzerland where he spent the rest of his life.
---
Battle of New Bern
Marker (C-11) located at US 70 East near the intersection of Taberna Way
The Battle of New Bern on March 14, 1862, was the second of three major engagements on the North Carolina coast in the second year of the Civil War. On February 7-8, Union troops under General Ambrose Burnside captured Roanoke Island, thereby securing control of the sound region. In March, those same forces captured New Bern, a strategic port town and the state's second largest city. On April 8, Burnside's expedition laid siege to Fort Macon and two weeks later took the stronghold. With it they gained another deepwater port at Beaufort and control of the entire northern and central portion of the state's coast. Only the Cape Fear, the "lifeline of the Confederacy," remained open to use by blockade runner through January 1865.
The advance on New Bern was a strategic success and provided a boost to Burnside's reputation. He threw all available force into the effort. Leaving a single brigade to guard Roanoke Island, Burnside's fleet sailed on March 11, stopping at Hatteras where they were joined by an additional thirteen gunboats, making a combined force of 11,000 men. The expedition was made up primarily of soldiers from Massachusetts, Pennsylvania, and Rhode Island. On March 12, sailing in two parallel lines, the fleet entered the Neuse River. The scene, one soldier, reminded him of "our summer steamer with excursionists."
They anchored at the mouth of Slocum's Creek and, early on the morning on March 13, shelled the shoreline and disembarked. No Confederates were posted there but signals upriver set bonfires to announce the Federals' approach. The troops marched overland about two miles to reach the Beaufort-New Bern road. One soldier wrote of the "muddiest mud ever invented, being knee-deep and of a black, unctuous, slippery character." Burnside's army pressed on, a total of thirteen miles, to New Bern. The next day, March 14, the town fell to the Union soldiers and remained occupied for the rest of the war.
---
Fort Totten
Marker (C-12) on Trent Road near Second Street
Fort Totten was built on the western edge of New Bern in 1862, after occupation of the city by Union forces and prior to the Battle of New Bern. The military installation was named for Joseph Gilbert Totten, a Union general born in New Haven, Connecticut, in 1788. Totten played an active role in the War of 1812, the Mexican-American War, and the Civil War. By March 1863 he had been promoted to brigadier general in the regular army. In order to honor Totten for his sixty-two years of service, he was awarded with a brevet promotion to major general by the War Department before he died in April 1864.
The Union mounted the campaign to gain control of New Bern because it would help them gain control of North Carolina's sounds, coast, and the Neuse River. The strategy gave the Union a strong base to launch further attacks into the state. The plan proved successful and the Union held control of the sounds and coast until the end of the War. Four artillery companies with a total of 251 enlisted men were stationed at Fort Totten. Five companies of infantry on provost-guard duty were stationed in the rear of Fort Totten with a total of 454 men.
The armament included four thirty-two pound howitzers, two thirty-two pound rifles, nine thirty-two pound carronades, one eight inch columbiad, and two eight inch mortars. The fort had lines of entrenchments that were extended on either side leading to the Neuse and Trent Rivers.
Today Fort Totten is a family park that  is on a five and one-half acre site. The park includes a lighted softball field, playground set, several picnic shelters, grills, picnic tables, restroom facilities and a small parking lot.
---
George E. Badger
Marker (C-14) is located on Broad Street near the intersection of Middle Street
George Edmund Badger, a native of Craven County, served in state and national office during his career, including a stint as Secretary of the Navy in 1841. He was as a U.S. Senator between 1846 and 1855, a North Carolina Superior Court Justice, and a representative in the Secession Congress in 1861. Badger is remembered for his staunch nationalism. Following his retirement from the Senate in 1855, Badger returned to his home in Raleigh where he served as county magistrate and practiced law until his death in 1866.
Born in New Bern in 1795, George E. Badger was educated locally and attended Yale University in 1810. He left Yale in 1812 due to financial hardship and returned to New Bern, and studied law under John Stanly, earning his license in 1815. In 1816, at twenty-one years of age, Badger was elected to represent New Bern in the North Carolina House of Commons. Following his term in office, Badge in 1820 was appointed a justice to the North Carolina Superior Court; at twenty-five he was the youngest justice ever to take office. Badger served on the court until 1825 when he resigned and moved to Raleigh to practice law.
Badger was a strong supporter of Andrew Jackson during the campaign of 1828, but broke away from Jackson and the Democrats over the recharter of the national bank. Joining the new Whig Party, Badger became actively involved in the 1840 presidential election, supporting William Henry Harrison. Upon Harrison's election to office, Badger was appointed Secretary of the Navy, a position he held only until September 1841. With Harrison's death, Zachary Tyler gained the presidency, and his split from the Whig Party and its ideals of a national bank and strong central government led to the resignation of the majority of Harrison's Cabinet, including Badger. Despite his short term, he was a well received and well-respected Secretary of the Navy.
Badger returned to his law practice until 1846, when he was elected by the North Carolina legislature to fill the vacant, unfinished term of William H. Haywood, Jr. He served in the Senate until 1855 after being re elected to a full term in 1848. In March 1855, upon Badger's retirement from the Senate, he was awarded an unusual accolade of recognition in appreciation of "his uniform courtesy . . . and valuable services during his long and distinguished careers." During his time in the Senate, he maintained a strong Federalist stance, supporting internal reforms and a strong central government.
In 1855 Badger again returned to Raleigh and his law practice, acting as county magistrate until 1861. He maintained a strongly Unionist stance, stemming from his belief in a strong federal government. But with Lincoln's call for troops, Badger became a secessionist, arguing carefully for the right of rebellion, as opposed to the right of secession from the Union. He died on May 11, 1866, and was buried in Oakwood Cemetery in Raleigh. Although his homes in New Bern and Raleigh no longer stand, Badger's law office remains. Later used by James Iredell, Governor of North Carolina, the office, once located at the corner of Dawson and Edenton Streets, was relocated to the Mordecai Historic Park in 1973, where it can be seen today.
---
Washington's Southern Tour
Marker (C-19) is located on Pollock Street
George Washington, Revolutionary War hero elected as the first president of the United States in February 1789, is one of the most celebrated figures in American history. For more than two centuries, the story of his eventful life has been marked by both truth and legend. The concept of the presidency was new, and Washington was fully aware that his decisions would set precedents. He resolved to tour the United States to observe political climate and culture, to thank his supporters, and to instill a sense of unity in the new country. As such, his tour and stops along the way became important landmarks in the areas he touched. Washington's stature in history is almost mythical, and has given rise to the popular claim—in well-known towns and obscure hamlets along the Eastern Seaboard—that "George Washington Slept Here." The claims are not surprising, however, as Washington saw more of his country while in office than any other American president before the twentieth century. He also kept a detailed diary chronicling his travels.
While on tour, he sought differing viewpoints and wanted to see and be seen by as many people as possible. Soon after taking office, he planned and undertook a successful 28-day tour of New England.     In early 1791, after establishing a site for the new "Federal District" along the Potomac River, Washington embarked on a tour of the Southern states—a product of his desire to visit every state during his term of office. Proceeding from Mount Vernon via Fredericksburg and Richmond (Virginia) into North Carolina, Washington crossed the Roanoke River into Halifax in mid-April 1791. From there, the President's carriage tour took him through Tarboro, Greenville, New Bern, Trenton, and Wilmington before entering South Carolina. Washington re-entered North Carolina near Charlotte and traveled northward, visiting Salisbury, Salem, and Guilford Court House.
Washington arrived on the outskirts of New Bern on the morning of April 20 and was greeted by a group of leading citizens who escorted the President into town. He recorded in his diary that the town had about 2,000 residents and that the 'buildings are sparce and altogether of wood." He noted that some of those buildings were "large and look well." It is unclear where Washington lodged while in New Bern If he held true to his desire to use taverns or inns, he may have taken advantage of the town's options while visiting with other members of the city's well-to-do, including John Wright Stanly, John Sitgreaves, and Richard Dobbs Spaight. Washington was well-entertained during his two-day visit, including lavish meals and dances at colonial governor William Tryon's palace. Washington departed New Bern on April 22, heading further southward toward Wilmington.
---
Bayard v Singleton
Marker (C-20) located on Broad Street near the intersection of Middle Street
Bayard v. Singleton, a landmark North Carolina court case that set a precedent for the exercise of judicial review, was decided in New Bern in November 1787. In that year, Elizabeth Cornell Bayard filed suit to reclaim lands and property of her father, Samuel Cornell, which had been confiscated at the close of the American Revolution because of Cornell's loyalist sympathies. The property had been purchased in 1784 for £2,160 by New Bern merchant Spyers Singleton.
Cornell, a New Bern merchant and member of William Tryon's Royal council, and perhaps the wealthiest man in North Carolina on the eve of the Revolution, had fled the colonies in April 1775 for London. In December 1777 he attempted to return, but was refused the right to land at New Bern when he would not take a loyalty oath to the United States. He then transferred his property to his wife and daughter in order to avoid confiscation under the restrictions that had been placed upon Loyalist properties. Nevertheless, his landholdings were confiscated, with the proceeds from the sale of Cornell's house reportedly paying for the expenses of the North Carolina delegates to the Constitutional Convention in Philadelphia.
Attorney and future governor Samuel Johnston filed Mrs. Bayard's lawsuit for her, assisted by fellow future governor William R. Davie. Singleton retained the services of former governor Abner Nash and preeminent attorney and future United States Supreme Court Justice Alfred Moore. Singleton apparently attempted to hire James Iredell. However, Iredell was opposed to the confiscation acts in principal and refused to actively participate.
Bayard's attorneys argued that the 1785 confiscation acts passed by the state violated a provision set forth in the state's 1776 constitution that guaranteed anyone a trial by jury in a case involving the potential of loss of landholdings or property. The case was heard by the court of conference, the forerunner to the North Carolina Supreme Court, by judges Samuel Ashe, Samuel Spencer, and John Williams. The court was faced with a troubling situation. Although it appeared clear that the confiscation acts did indeed violate the state constitution, there was no real precedent in the 1780s for a court to refuse to enforce a legislative act. Abner Nash moved to have the case dismissed, but the court chose to delay their decision, awaiting a hopeful out-of-court settlement and providing time for the General Assembly to repeal the acts.
The Assembly chose not to repeal the confiscation acts during the November 1787 session but concluded that the court had the right to hear the case. In response, Iredell published To the Public, proclaiming the right of judicial review. The court ultimately took the case, and reluctantly agreed that they could not enforce an act that violated the state constitution, thus sending the case into the trial phase. Nevertheless, the court decided quite controversially against Bayard after finding a loophole in the prosecution's case, stating that Cornell was actually an alien and therefore could not have owned land in the first place.
The court's acknowledgement that legislatures could not make laws that violated state constitutions, and the case's eventual decision, angered many on both sides of the argument. Richard Dobbs Spaight, a signer of the Constitution, denied openly in the press that the courts had any right to deem a legislative action unconstitutional. Nevertheless, the Bayard v. Singleton opinion of the court was widely published and distributed to attorneys, setting a precedent for judicial review within the American legal system.
---
First Post Road
Marker (C-22) on East Front Street
The first post road in North Carolina was constructed in 1738-1739, extending a road network that ran from Philadelphia to Williamsburg. In April 1738, the Virginia Gazette reported that Virginia Governor Alexander Spotswood had ordered a road to be cut from Williamsburg to Edenton in accordance with the wishes of North Carolina's post-master Abraham Blacknall.
A year later, in April 1739, the South Carolina Gazette recorded the establishment of a postal route from Charleston to "Georgetown, Cape Fear, Edenton, and so through the Northern Colonies" that would run on the 20th day of every month. In May 1739, the reported that the road running from Edenton to Charleston had been finished. The following month the paper noted that a continuous route was then in existence from Boston to Charleston.
The exact route of the road through North Carolina remains something of a mystery. However, it is known to have passed near or through the present-day towns of Corapeake, Edenton, Bath, New Bern, and Belgrade, and through Brunswick County before entering South Carolina. The route apparently fell into disrepair in the 1740s and 1750s. As the British colonies were drawn into the War of Jenkins's Ear and the French and Indian War, colonial legislatures could scarcely afford to support the post road. Furthermore, oftentimes it was quicker and more efficient to simply mail letters by ship for delivery along the coastal trading routes.
In 1765, when William Tryon succeeded Arthur Dobbs as royal governor, North Carolina was the only colony that did not have an official post system, leaving a gap in communications between the northern colonies, South Carolina, and Georgia. Tryon attempted to ameliorate the situation by funding the rebuilding and maintenance of the route, but by 1774 the post road was only partially operable. That same year the first east-west postal route in North Carolina was established between Wilmington and Cross Creek.
---
Fort Point
Marker (C-25) located on Old Cherry Point Road by Green Springs Road in James City just outside of New Bern
Fort Point in Craven County was the site of a small fort built in 1775-1776 by Whig forces guarding the river approaches to New Bern. The facility was named Fort Caswell in honor of Governor Richard Caswell but never saw action during the war. The Americans dismantled and removed the guns of the earthwork fort prior to the British capture of the town in August 1781.
During the Civil War, local Confederate officials rebuilt and expanded the fort, renaming it Fort Lane. The small defensive position boasted between three and eight guns at different times, and served as part of New Bern's defensive network along with Fort Thompson and Fort Ellis. Several North Carolina Confederate regiments served brief tenures at the fort. John A. Graham, a young officer in the 27th North Carolina wrote a poignant letter to his father William A. Graham on March 7, 1862, in which he noted, "Our men are living in tents, but seem to like this place better than Fort Macon." Graham's unit had originally been posted at Fort Macon near Morehead City.
When New Bern fell to Union forces a week after Graham's letter, Fort Lane was destroyed and its guns dismantled. Union forces never reused the defensive position, instead focusing their efforts on the construction of Fort Totten.
---
De Bretigny
Marker (C-27) located on Pollock Street
During the American Revolution, even prior to France's formal entry into the war, hundreds of French soldiers of fortune offered their services to the United States. One such individual was a dashing young nobleman, Charles-Francois Sevelinges, who claimed the title Marquis de Bretigny. In the spring of 1777 he began writing petitions to Benjamin Franklin, offering his services along with that of ten of his closest comrades. A captain in the French Army who served in the Guards regiment of the brother of King Louis XVI, Bretigny was born in Soissons in 1758.
His offer of service was accepted, but the vessel in which he embarked for America was captured in the West Indies. Imprisoned for a short time in St. Augustine, Bretigny eventually obtained his freedom, and began offering his services to the Continental army, writing several letters to George Washington and the Continental Congress. He evidently had befriended John Laurens, son of South Carolina political elite Henry Laurens, as Bretigny's proposal to raise a French regiment was written in Laurens's hand.
Discouraged in his efforts to raise a French regiment for Continental service, de Bretigny was much more successful in convincing the government of South Carolina to let him do so. In September 1779, de Bretigny's letters to the Comte de Estaing convinced the commander of French forces in America that Savannah was ripe for the taking. In response, de Estaing, united with an American force led by Maj. Gen. Benjamin Lincoln, launched a poorly-managed and unsuccessful assault on the city in October.
After the fiasco at Savannah, de Bretigny took command of an ad hoc regiment of South Carolina militia composed of French and American sailors and citizens of Charleston. He led his regiment in the siege of Charleston, but somehow managed to escape captivity when the city fell in May 1780. Having had little luck in Georgia and South Carolina, de Bretginy turned to their northern neighbor, where he obtained a commission in the North Carolina militia.
De Bretigny briefly commanded North Carolina militia cavalry, and led a company in the Battle of Guilford Courthouse. Afterwards he was appointed North Carolina's intermediary between the state and the French government. De Bretigny operated out of the island of Martinique, and helped organize financial transactions between the two governments as well as shipments of military material and goods.
At the war's conclusion De Bretigny retired from public service in New Bern. He apparently lost his entire fortune during the French Revolution, and died in poverty in Philadelphia on June 27, 1793.
---
F. M. Simmons
Marker (C-30) located on East Front Street
A political wheelhorse of the highest order for the first three decades of the twentieth century, Furnifold McLendel Simmons (1854-1930) served five terms in the United States Senate from 1901 to 1931. The Democratic political machine which he dominated held sway in state politics in those years. The "Simmons Machine," Jonathan Daniels wrote, "picked congressmen, sometimes even sheriffs."
Born near Pollocksville in Jones County on land where his family had lived since the early 1700s, Simmons graduated from Trinity College in 1873, at which point he moved first to Goldsboro and then to New Bern to commence the practice of law. In 1908 he purchased an imposing house on Front Street in New Bern, where he lived until his death. The municipal airport in New Bern is named in honor of the Senator and of young pilot Benjamin Nott, killed in a crash in 1931.
Simmons served in the United States House of Representatives from 1887 to 1889 but lost his bid for reelection to Henry P. Cheatham, an African American. His accrued power as the chairman of the Democratic state executive committee in 1892, a post he also held from 1898 to 1907. As the head of the party Simmons in large part engineered the white supremacy campaigns of 1898 and 1900. President Grover Cleveland appointed him collector of internal revenue for the eastern district of North Carolina, 1893-1897.
In the Senate Simmons chaired the Finance Committee, 1913-1919, during the Woodrow Wilson administration. He was largely responsible for the creation of Fort Bragg during World War I and for the construction of the Intracoastal Waterway. In 1928 he drew national attention for his outspoken opposition to the presidential candidacy of Democrat Alfred E. Smith of New York, favoring the bid of Herbert Hoover. For his betrayal of the party he was defeated in the Democratic primary in 1930.
---
James Walker Hood
Marker (C-33) located on Broad Street near the intersection of George Street
James Walker Hood was born in Pennsylvania in 1831 to free parents who instilled in their son a love of the church and a spirit guided by the need to help fellow African Americans improve their lives through education and religion. Hood's father was a minister and his work moved the family around the country as he served various churches. Young Hood learned to manage both a life in the church and work as a wage earner during his early years. After he came of age, Hood continued to travel and work in various occupations while nurturing his need to serve in the church. He was licensed to preach in 1856 by the African Methodist Episcopal Zion Church in New York and then moved to Connecticut and Nova Scotia over the next few years preaching and working as a missionary.
Hood's most important assignment within the church came about in 1863 when he was sent to North Carolina as a missionary. He served black congregations in New Bern and Beaufort at the end of the Civil War and was successful in establishing a North Carolina Conference of the AME Zion Church in 1864. One of the many churches he helped to form was St. Peter's in New Bern. He became a church bishop in 1872 and moved to Fayetteville, which would be his home the rest of his life. As part of his role in the church, Hood helped to establish Zion Wesley Institute, now Livingstone College as a school to train black students for the ministry and to become good citizens of their state as teachers and artisans. He presided over the school's board of trustees for over thirty years.
In addition to his role in the church, Hood also sought to become involved in politics as a vocal and successful advocate for the rights of blacks. In 1865 he presided over the statewide freedmen's convention and later participated in the 1868 state constitutional convention and the national Republican convention of 1872. He also held several government positions as assistant state superintendent of public instruction, magistrate, and assistant superintendent of the North Carolina Freedmen's Bureau.
Hood left a legacy of church building, a college, books on church history, and published sermons plus several children who continued his work when he died in 1918 in his adopted hometown of Fayetteville.
---
Political Dual
Marker (C-39) located on Johnson Street
On September 5, 1802, two prominent North Carolina politicians resolved to settle a conflict that had played out before the public. John Stanly, incumbent congressman, and Richard Dobbs Spaight, former governor and congressman, met at dusk behind the old Masonic Lodge on the outskirts of New Bern in order to duel. The political adversaries had traded jibes for more than two years, with increased frequency in the weeks prior to the duel. Spaight arrived with Edward Pasteur as second and Stanly, with Edward Graham. Three volleys were fired, during which exchange Stanly's coat was pierced with a gunshot. Although bystanders urged that the matter be considered settled, Pasteur insisted that it continue. In the following round, Stanly delivered a shot that struck Spaight in his right side.
Spaight was taken to his home in New Bern where he died the following day, leaving a wife and small children. In response to the high-profile duel, the General Assembly passed an anti-dueling law just two months later. After his unsuccessful petition for a pardon to the legislature in 1803, John Stanly contacted the governor. Governor Benjamin Williams, believing that the challenge was unavoidable and that it had been a matter of honor, granted Stanly's pardon. Stanly went on to have a successful political career.
The permissive nature of Stanly's pardon demonstrates why North Carolina's anti-dueling act was ultimately ineffective. Men who were passionate enough to duel believed that they had a reasonable chance at being pardoned, since they were defending their honor. If they did not wish to risk the law, duelists could step over the state line to South Carolina, where dueling was legal, as was the case in the Robert B. Vance and Samuel P. Carson duel in 1827.
---
Christ Church
Marker (C-42) located on Broad Street near the intersection of Craven Street
Craven Parish was one of nine parishes established in the Province of North Carolina in 1715. A church building was begun in 1739, and ten thousand bricks were baked for the new structure. The church, at the corner of Pollock and Middle Streets in New Bern, is of Norman design and is believed to have been finished around 1750. It was the first house of formal worship in the town (which was settled in 1710), and the Church of England embraced the congregation. In 1752, the vestrymen of Craven Parish appealed to the Society for the Propagation of the Gospel in England for a regular rector. Two ministers arrived in 1752, and, after a one-year trial, Rev. James Reed was formally installed as rector of the parish.
At the start of the American Revolution, Reed remained loyal to the Crown, as a missionary for the Society for the Propagation of the Gospel. Consequently, Reverend Reed and his salary were suspended by an act of the vestry in 1777. After the Revolution, when the first state constitution was adopted at Halifax in December 1776, the Anglican Church was formally disestablished in the State of North Carolina. The original church building was demolished in the wake of the Revolution, and a new and larger structure (again of Norman design, with a tower) was consecrated in 1824. The second building stood for more than forty years before being destroyed by fire in 1871. The church was rebuilt in 1873 (incorporating the remaining walls of the previous building), and consecrated in 1875. These later structures were located further back on the property than the original colonial-era building.
In 1967, the foundation of the colonial-era church was excavated and its outline restored. During the excavation, it was noted by landscape architect Morley J. Williams that the bricks used for the original church were identical to bricks used for the construction of nearby Tryon Palace in New Bern.
---
First Provincial Congress
Marker (C-50) located on Broad Street near the intersection of Craven Street
In Wilmington, on July 21, 1774, William Hooper convened a meeting of colonists from the Cape Fear region who felt that it was "highly expedient" that a Provincial Congress be held separate from North Carolina's royal government. Invitations to send delegates were dispatched and, in response, thirty counties and four towns held elections without delay. Although the congress was initially planned to convene at the Johnston County Courthouse on August 25, the provincial leaders moved the meeting place to New Bern. Thus, the rebellious First Provincial Congress was held virtually at the feet of the royal Governor, Josiah Martin. No attempt was made to stop the assembly.
On August 25, 1774, seventy-one delegates were present at roll call for the first provincial congress held in any of the colonies. John Harvey of Perquimans County, who had been serving as Speaker of the Lower House, was unanimously elected moderator for the landmark session. The congress, which lasted only three days, rallied support for the people of Massachusetts and endorsed the proposal that the colonies hold a Continental Congress. To that end, the Provincial Congress selected William Hooper, Joseph Hewes, and Richard Caswell as delegates to such a convention.
Aside from the revolutionary topics, the delegates to the First Provincial Congress also discussed basic rights and responsibilities of government. They were eager to exercise control over North Carolina's affairs. The concluding pledge to support the actions of the forthcoming Continental Congress was testament to their goal of self-government and to their preparedness to achieve that goal.
---
Batchelder's Creek
Marker (C-51) located west of New Bern on Highway 55
After the fall of the Outer Banks, the defenses around New Bern, one of the state's most active inland ports, were left to Gen. Lawrence O'B. Branch, who created a series of forts and earthworks along waterways around the town. Branch's efforts were hampered by inadequate supplies and men but resulted in the creation of several rudimentary forts and gun emplacements. Union Gen. Ambrose Burnside readied his forces for an attack from their bases on the Outer Banks in 1862 and successfully took New Bern with few losses.
Once Burnside's men controlled New Bern, they re-occupied the works thrown up by the Confederates along the rivers. One of these emplacements was at Batchelder's Creek, about ten miles northwest of the town. The ring of pickets placed by Burnside throughout the old Confederate lines protected the town and was an advance warning system should the Confederates attack. The Confederate forces then set up their own picket lines about two miles away from the Union lines to prevent further inland movement by the Union army. It was along these lines that the Confederates sought to attack and re-take New Bern in 1864.
During the attempt to re-take New Bern, Confederate forces were under the command of Generals Robert F. Hoke and George Pickett who hoped to surprise the Federals by a multi-pronged assault, moving most of the troops through Batchelder's Creek towards New Bern. The first stage of Hoke's plan worked and the outmanned troops of the Batchelder's Creek stations quickly retreated in the face of superior Confederate strength. The Confederates re-took the earthworks along the creek and readied for an assault on the town. However, the retreating Union forces were able to re-form in New Bern and the Confederate forces were unable to advance. New Bern stayed in firm control of the Union military throughout the war.
Many of the original earthworks can still be found in wooded areas around New Bern although development is threatening their preservation. Concerned groups have recently purchased portions of the battlefield to save it from encroachment.
---
George H. White
Marker (C-53) located on Broad Street near the intersection of Metcalf Street
George Henry White was the fourth of four African Americans to represent North Carolina's Second District in the United States House of Representatives in the nineteenth century. He was born near Rosindale in Bladen County on December 18, 1852. His father was Wiley F. White and Mary White is the woman that George considered his mother.
The highway historical marker for White approved in 1976 indicates that he was born into slavery, as was believed at that time. However, Benjamin R. Justesen's 2001 biography of White relates details that tend to refute the statement. George H. White was raised as a free black, as was his father Wiley. However there is some indication that George, like his older brother John may have been born to a slave woman that Wiley White never married. If that is the case, Wiley and Mary White would have had to purchase the boys. Regardless of his circumstances of birth, George White attended public schools and studied under D. P. Allen, president of the Whiten Normal School in Lumberton. White graduated from Howard University in 1877. He initially held principalships at two New Bern schools, while at the same time studying law under Judge William J. Clarke. White obtained his license to practice law in North Carolina in 1879.
George H. White launched his political career in 1881, when he was elected from Craven to serve in the North Carolina House of Representatives. In 1885 he served in the State Senate. The following year White was elected to a four-year term as district solicitor for the Second Judicial District. White moved to Tarboro in order to be eligible to run for office in what was known as the "Black Second" Congressional District. The district had a significant black population and three times had elected African-Americans to Congress. White was elected to Congress in 1896 and 1898. At the time, he was the only black representative and in that capacity he introduced the first bill condemning lynching. He was attentive to local issues and appointed many blacks in his district to federal positions.
Most noteworthy in White's Congressional career was his farewell speech, in which he stated his belief that, referring to service by blacks in the national legislature, "Phoenix-like he will rise up some day and come again." After completing his term in 1901, as the racial climate in the South was changing, White and his family moved to Washington, D.C., and later to Philadelphia, where he founded to first black-run bank. He established a black community in Cape May County, New Jersey, called Whitesboro. In 1879 George White married Fannie B. Randolph, who bore him a daughter. He married Nancy Scott in 1882, but she died within the year. In 1886 he married Cora Lena Cherry, daughter of a Tarboro politician. The couple had two children. White married one more time, to a much younger woman, Ellen Avant MacDonald, in 1915. George White died December 28, 1918, and is buried in Eden Cemetery in Philadelphia.
---
Caleb Bradham
Marker (C-60) located on Pollock Street near the intersection of Middle Street
Around the world, from Prague to Bangkok, the name Pepsi-Cola is known to the masses. The carbonated soft drink's popularity stems in part from shrewd marketing, driven for decades by the company's rivalry with its competitor, Coca-Cola. Both products originated in the American South, Coca-Cola in Atlanta, where the corporation is headquartered and visitors are welcomed to a Coke museum, and New Bern, the small eastern North Carolina town where Pepsi originated.
Caleb Davis Bradham, born in Chinquapin, North Carolina, in 1867, attended the University of North Carolina for three years beginning in 1886 but completed his education in the College of Pharmacy at the University of Maryland. He then returned to his native state and purchased a drugstore in New Bern. Bradham took particular pleasure in concocting soft drinks for friends gathered around his soda fountain.
In the mid 1890s he produced a popular item which he called "Brad's Drink" and later "Pep-Kola." The key ingredients were coca leaf and kola nut. In 1898 Bradham changed the name to "Pepsi-Cola" and, in 1902, left the pharmacy to devote full time to the soft drink business. "Pepsi-Cola" was filed as a trademark in September 1902 and registered in 1903. The Pepsi-Cola Company was incorporated in December 1902. Bradham's friend and New Bern neighbor, pioneering female photographer Bayard Wootten, created the distinctive first logo. Bradham purchased a prominent residence, a historic New Bern house, one that had been used by General Ambrose Burnside, commander of the Union forces occupying New Bern from 1862 to 1865.
The business had its ups and downs over the years. By 1910 the company had over 250 bottlers in twenty-four states, making Bradham wealthy. During World War I sugar prices spiked and fell, leading to his bankruptcy. In 1923 he sold the trademark and business to investors in Richmond, Virginia, for $35,000. The company then changed hands four times and went bankrupt again in 1931. Under the new ownership of a candy manufacturer, its fortunes improved and, since that time, Pepsi has become well-known internationally. A trademark dispute with rival Coca-Cola over the rights to the use of the word "cola" was settled in Pepsi's favor. The two remain intense rivals to this day, from restaurant franchises to sponsorship of major events.
Today PepsiCo, headquartered in Purchase, New York, has annual retail sales of over $98 billion and is traded on the New York Stock Exchange. The evolution of PepsiCo is effectively a history of American branding. The company by that name was created in 1965 with the merger of Pepsi-Cola and Frito-Lay, the manufacturer of snack foods (the pairing has the aura of inevitability). In 1998 the company acquired Tropicana, purveyor of orange juice, and in 2001 it added Quaker Oats, moving decidedly into the breakfast arena. Recently the company announced plans to invest over a billion dollars in the burgeoning Chinese market over the next five years.
The name of Caleb Bradham and the name of Pepsi are well-remembered in New Bern and in North Carolina. Bradham endowed an annual prize at the pharmacy school at the University of North Carolina. At the height of his acclaim and influence, he had his name mentioned as a potential candidate for governor. He was an active Shriner, bank officer, and a rear admiral in the North Carolina Naval Reserve. When Bradham convened a group of bottlers in New Bern in 1910, he hosted them aboard the Elfrida, a vessel used in the Spanish-American War and refitted as a yacht. Bradham's drug store at the corner of Middle and Pollock streets burned shortly before his death in 1934. A new building went up on the site soon thereafter. Today that structure is fitted out with plaques and displays dedicated to the history of Pepsi-Cola. The local bottlers in New Bern, owned by the Minges family, over time have created their own legacy.
In recent years regional bottlers marketed Pepsi-Cola under the slogan "Taste Born in the Carolinas." The commemoration in 1998 in New Bern of the centennial of the beverage included a parade, fireworks, memorabilia shows, and a play based on the life of Bradham. Tryon Palace Historic Sites and Gardens in 2010 will open a new History Education Center which will include a gallery named for and underwritten by Pepsi.
---
New Bern Academy
Marker (C-61) located on Hancock Street near the intersection of New Street
The earliest government effort to aid education in North Carolina was in Edenton in 1745, where town commissioners were empowered to build a schoolhouse. However, there is no evidence that it was ever built. (An academy in Edenton was eventually established in 1770.) Other efforts to aid education were pressed either by government or members of the Assembly in 1749, 1752, 1759, and 1764, but failed due to lack of interest.
The New Bern Academy, founded in 1764 and incorporated in 1766, was described by Governor William Tryon as "the first (school) established in this province by legislative authority." The 1766 act provided that a special public tax be placed on liquor for its support. Although a few children of parents who could not afford to pay were allowed to attend free of charge, most paid tuition. Thus, the academy cannot correctly be said to be the state's "first public school." Edgar W. Knight has written of the New Bern Academy: "This was the first school or academy incorporated in North Carolina and this was the first law of any great importance passed in the colony on the subject of education."
Thomas Tomlinson was hired as headmaster by trustee James Reed, Rector of the Anglican Church. Beginning in 1768 the colonial Assembly used the school as a meeting place. A new set of trustees appointed in 1784 included Richard Caswell, Abner Nash, John Wright Stanly, William Blount, Richard Dobbs Spaight, and other prominent North Carolinians. Likewise, many of the state's leaders were educated in the school, among them William Gaston, Richard Dobbs Spaight Jr., and Francis L. Hawks.
A new building, designed perhaps by James Coor or William Nichols, was begun in 1806 and completed in 1810. The structure was seized and used as a Union hospital during the occupation of New Bern, 1862-1865. The academy ceased to exist with its incorporation into the New Bern city school system in 1899. However, the building was used by the public schools until 1972. Today it is administered by Tryon Palace and Gardens.
---
James City
Marker (C-64) located on US 70 Business at the intersection of US 70 in James City just outside of New Bern
Joe A. Mobley, author of a study of James City, has called Civil War-era New Bern a "Mecca for freedom." Seized by Federal forces in 1862, the city quickly became a refugee center for thousands of eastern North Carolina slaves seeking freedom and safety behind Union lines. In an effort to accommodate them the U.S. Army established three resettlement camps. These were consolidated in 1863 into one, known as the "Trent River settlement," located on land that once belonged to the family of Richard Dobbs Spaight.
The Reverend Horace James (1818-1875), chaplain of the Twenty-fifth Massachusetts Regiment, was the superintendent of the camp. Near the close of the war the community was renamed James City in recognition of his accomplishments on behalf of the new residents. In the postwar period James served as assistant commissioner of the Freedman's Bureau for North Carolina.
James City remained a cohesive black community until about 1900, its people economically productive and politically active. Their primary goal was to obtain permanent ownership of the land on which they resided as tenants. When they failed to win their court case in 1893, their community began to dissolve. Still, James City continues to exist to this day as an unincorporated area of about 700 residents, most of them African Americans.
---
Rains Brothers
Marker (C-66) located on East Front Street
Two New Bern-born brothers followed remarkably similar career paths, each contributing significantly to the Confederate war effort through his explosives expertise. Born to cabinetmaker Gabriel Rains and his wife Hester, both brothers attended New Bern Academy and West Point.
The eldest, Gabriel J. Rains (1803-1881) served a long stint in the "Old Army" and was assigned to the Indian Territory in 1827, in time fighting the Seminoles and in the Mexican War. He had risen to lieutenant colonel by the time he resigned in July 1861 to accept Jefferson Davis's offer to be a brigadier general. Posted to Yorktown, Virginia, he developed there a "Sub-Terra Shell" or time bomb used to horrific effect. His employment of land mines early in the war outraged military men on both sides, who viewed it as a particularly horrendous, inhuman form of warfare. In 1864 he directed the use of a time bomb that exploded at City Point, Virginia, causing four million dollars in damage to a federal ammunition depot and narrowly missing the party of Gen. Ulysses S. Grant.
That same year Gabriel Rains was appointed superintendent of the Torpedo Bureau. By the end of the war there was less compunction and Rains's mines and torpedoes were used with regularity. A recent writer has concluded that Rains played a "major role in revolutionizing the science of combat." After the war he resided in Augusta, Georgia, and worked for a fertilizer company while continuing to invent and publish articles on torpedo technology. He died in 1881 in Aiken, South Carolina.
George W. Rains (1817-1898), like his brother, served in the Mexican War. In 1856 he resigned from the Army to assume the presidency of Washington Iron Works in Newburgh, New York. In 1861 Rains joined the Confederacy and organized the effort to build the powder works at Augusta, Georgia. The Confederacy, desperately short on gunpowder at the war's outset, had need for a strong, home-based gunpowder industry. Colonel Rains, superintendent of the works, visited mines to find the necessary saltpeter and secured supplies from throughout the southern states. Workers were brought in from the captured U.S. arsenal at Fayetteville. Though never fully completed, the works did operate for over three years and produced 2,750,000 pounds of gunpowder.
Today a cotton mill along the Savannah River, only an obelisk-like chimney remains from what was said at the time to be the world's largest powder factory. Rain's promotion late in the war to brigadier general was never confirmed. He later became a chemistry professor at Augusta's Medical College of Georgia. Historian Maurice Melton has concluded: "Rains showed a genius for getting things done, and to him—almost alone—is due credit for keeping the guns firing." He died at Newburgh, New York.
---
USRC Diligence
Marker (C-67) located on East Front Street near the intersection of South Front Street
The United States Coast Guard had its beginnings in 1790 as the United States Revenue Marine (the named was changed in 1863 to Revenue Cutter Service and in 1915 to Coast Guard). Alexander Hamilton, Treasury Secretary under Pres. George Washington, on April 23, 1790, proposed to Congress that a fleet of ten cutters be built and manned to counter the threat posed to the revenue by smuggling. One vessel was to be used in waters off North Carolina. The bill passed on August 4 and the following year the ships were built. Until the Navy Department was organized in 1798, the fleet constituted the only U.S. fighting force afloat.
Working with Hamilton were John Daves, port collector at New Bern, and Nathan Keais, port collector at Washington, North Carolina. Correspondence indicates that, despite a shortage of materials and supplies, the ship Diligence sailed to New Bern in February 1792 where it was fitted out and commissioned in late June or early July. In command was Capt. William Cooke, whose appointment by George Washington was issued in April 25, 1791, during the president's southern tour.
The USRC Diligence was transferred to Wilmington in October 1792 where it was in service until 1798. In 1793 Captain Cooke and his crew charged François Henri Hervieux of the le Vainqueur de la Bastille with a breach of revenue laws and seized their cargo of $40,000 in gold. The Diligence was replaced by another ship bearing the same name in 1798. In November of that year the first revenue cutter stationed in North Carolina waters was auctioned off for $310.
---
Bayard Wootten
Maker (C-70) located on East Front Street in front of her home
Pioneering North Carolina photographer Bayard Wootten (1875-1959) lived in the same house on East Front Street in New Bern for the years 1875-1892, 1901-1928, and 1954-1959. She was named for her grandmother, New Bern writer and editor Mary Bayard Clarke. Bayard Wootten's father Rufus Morgan, also a noted photographer, moved to California in 1879 with the intention of bringing his family out, but he died in 1880. Her mother, who married George Moulton in 1886, supported the children by painting decorations on hats and fans. Bayard attended present-day University of North Carolina at Greensboro for a year and then taught school in Georgia, where she married Charles Wootten in 1897. They divorced in 1901. Wootten returned to the work that her mother had followed, commercial art, and designed the first trademark for Caleb Bradham's Pepsi-Cola. Around 1904 she shifted from artwork to photography. She gained experience at Camp Glenn, the National Guard installation in Morehead City, where she was hired as photographer and director of publicity. Her business flourished and her half-brother George Moulton joined her full-time.
In 1910 Wootten protested sexual discrimination in a professional publication and later took part in suffrage demonstrations. As a pioneer in the field Wootten achieved numerous firsts, often endangering her safety to get the picture. She flew over New Bern in 1919 to get early aerial views, photographed Linville Falls after being lowered over a cliff by a rope, and late in life, shot a mill from atop a water tower. Wootten and her staff, based in Chapel Hill from 1928 to 1954, traveled across the state. Her photographs illustrate many books, among them Cabins in the Laurel (1935) and Old Homes and Gardens in North Carolina (1939). Her work drew favorable comments at a Boston exhibition in 1932 and was subsequently exhibited in nine states. In 1954, with her eyesight and hearing failing, she returned to her birthplace where she died five years later.
---
Graham A. Barden
Marker (C-74) located on Broad Street
Graham A. Barden rose to power in Congress at a time when Tar Heels chaired several of the most important committees. In his thirteen terms conservative Democrat Barden used his influence to bring military bases to North Carolina while gaining a reputation nationally for his opposition to labor unions. Born in Sampson County and raised in Burgaw, "Hap" Barden attended the University of North Carolina where he played football. He served in the Navy in World War I and taught school in New Bern before setting up a law practice. He served as a county judge before his election to the State House in 1933. In 1934 he was elected to Congress to represent the Third District.
Ways and Means Chairman Robert L. Doughton, a Tar Heel, in 1937 secured for Barden a seat on the Education Committee, which he chaired from 1943-47. Democrats lost the House in 1946 but Barden regained chairmanship of the renamed Education and Labor Committee that he held, 1949-53 and 1955-61. Barden was instrumental in passage of Section 14(b) of the Taft-Hartley Act, allowing states to enact right-to-work laws. He took pride in the Barden-LaFollette Act, providing funds for the handicapped, and George-Barden Act, funding vocational education. In 1950 he gained the national spotlight when he was denounced by Cardinal Spellman for sponsoring legislation to aid public schools but denying funds to parochial and private schools. Eleanor Roosevelt came to his defense.
At home Barden is best remembered for his successful efforts to bring Camp Lejeune, Cherry Point Marine Corps Air Station, and Camp Davis to his district at the outset of WWII and his success in reopening Seymour Johnson AFB in 1952. Croatan National Forest was created during his tenure. Declining health led him to retire in 1961. Adam Clayton Powell was his successor as chair of Education & Labor. Barden is buried in New Bern's Cedar Grove Cemetery. Campbell University established a professorship in his name in 1968.
---
Andrew's Chapel
Marker (C-80) located on Broad Street near the intersection of Hancock Street
In 1795, Methodists purchased a lot at the corner of Hancock Street and Pleasant Alley (later Church Alley) in New Bern. Seven years later they completed construction of Andrew's Chapel, the second church in the town. From its inception, the church provided segregated worship space for free blacks and some slaves. Between 1839 and 1843, white members left to establish what would become Centenary United Methodist Church, and the chapel became entirely African American. After the Union occupation of New Bern in 1862, Federal soldiers stationed in the town opened a school in the chapel. Nearly thirty soldiers of the 25th Massachusetts operated an academy for black children within the church until stopped by an order from provisional military Governor Edward Stanly who instructed that, since North Carolina law prohibited the education of slaves, the practice must stop.
In late 1863, James Walker Hood, an African Methodist Episcopal Zion (AMEZ) missionary, was dispatched from New England to eastern North Carolina, charged with bringing local freed slaves to the AMEZ faith. Bishop Christopher Rush, head of the AMEZ church, had lived in New Bern as a young man and attended Andrew's Chapel. Therefore, Hood was instructed to pay particular attention to the Andrew's congregation. Arriving in January 1864, Hood convinced the congregations of both Andrew's Chapel in New Bern and Purvis Chapel in Beaufort to join the AMEZ church. Although Andrew's Chapel members apparently voiced their approval of joining the church first, Hood was prevented from officially accepting them because of a smallpox epidemic raging in the city. Officially, Purvis entered prior to Andrew's Chapel. However, Andrew's traditionally is viewed as the mother church of all AMEZ churches in the southern United States.
The church played an important role during Reconstruction, serving as a spiritual and religious center for the area's black population. In 1879 the congregation purchased a new church site along Queen and Johnson Streets in New Bern and built a new sanctuary. They also changed the name to St. Peter's African Methodist Episcopal Zion Church.
---
King Solomon Lodge
Marker (C-81) located on Metcalf Street near Cedar Grove Cemetery
Organized in 1865 under the authority of the Grand Lodge of New York, King Solomon Lodge was the first Masonic Lodge for African Americans in North Carolina. The New Berne Daily Times on November 27, 1865, reprinted an account from the Anglo-African, a New York newspaper, indicating that Paul Drayton of the National Grand Lodge soon would travel south to dedicate the local New Bern affiliate. The report specified that the lodge had been established "some weeks ago." The New Bern newspaper took exception to the move, judging it to be a "gross insult" to white Masons and pointing to a requirement of Masonry that members be "free born."
Following King Solomon Lodge were Giblem Lodge in Wilmington, Eureka Lodge in Fayetteville, and Widow Son Lodge in Raleigh. The African American Masonic lodges operated under the auspices of the Grand Lodge of Ohio until March 1, 1870, when a convention was held at the Giblem Lodge in Wilmington to organize the Grand Lodge of Free and Accepted Masons for the State of North Carolina (Prince Hall). Bishop James Walker Hood was made the first Grand Master of the state.
King Solomon Lodge served as a foundation for black leaders in the community and state. It offered a network of communication, support, and fellowship and elevated members to political prominence. Members of the New Bern lodge included James O'Hara, legislator and Congressman; Henry P. Cheatham, Congressman; and George H. White, legislator and Congressman.
The King Solomon Lodge building was erected in 1870 on Queen Street. A grand ball was held on February 23, 1871, to celebrate the building's opening. It was reported in a local paper that the event "was largely attended and was a very enjoyable affair." In the 1920s the structure was moved a short distance to make room for the expanding Cedar Grove Cemetery. It now stands at 710 Howard Street in New Bern and retains some original features. King Solomon Lodge remains active and is significant to the Prince Hall Masons, and the African American community at large, as mother lodge in North Carolina.
---
Samuel Cornell
Marker (C-82) located on Broad Street near the intersection of East Front Street
Samuel Cornell, a native New Yorker, moved to New Bern in 1754 and became a wealthy merchant. By the 1760s he had amassed a considerable fortune. Among his holdings were two plantations, one on the Neuse River and the other, formerly the property of Governor Arthur Dobbs, was on the Trent River. He lived with his family in a spacious town house in New Bern. To serve his mercantile operations, Cornell operated several warehouses, a retail store, and at least three sailing vessels. He also owned a rum distillery that was well-situated with brick buildings and copper stills.
Cornell's wealth is evident from documents related to the devastating hurricane that struck New Bern in 1769. His family narrowly escaped from their flooding home. Still, records indicate that the floor of the home caved in, that all of his furniture was either broken or washed away, and that among the items stored in basement that was flooded were two hundred hogsheads of molasses, eighty hogsheads or rum, and several pipes of wine. Likewise Cornell's store was destroyed "with all the Goods and Money," and one of his ships was washed over the marshes and into the woods. His losses alone were estimated at £5000, or approximately one-fourth of the total losses in New Bern.
In 1769 and 1770, as one of the wealthiest and most influential men in the colony, Cornell loaned substantial amounts of money to the government, underwriting the construction of a new governor's house in New Bern. That residence became known as Tryon Palace. Governor William Tryon referred to Cornell's generosity in a 1770 letter to the Earl of Hillsborough. Tryon stated that Cornell was "about forty years of age, of a very genteel and public spirit" and "a merchant of the first credit and fortune in the province." As such a fine and generous citizen, Cornell was recommended to fill a vacant slot on the Governor's Council.
An ardent supporter of the royal government, Cornell seized another opportunity in 1771 to lend cash to North Carolina. He provided "large sums of money" to finance a military expedition to put down the Regulator rebellion. In addition to his loan, Cornell also sold to the colony £483 in supplies for the troops. An active participant in the Battle of Alamance, the engagement that culminated the expedition, Cornell was wounded in the thigh.
By 1775 Cornell feared that he would be asked to subsidize revolutionary activities, with the permission of Governor Josiah Martin, moved to New York. Hoping to keep his real and personal property in North Carolina from being confiscated by the government, Cornell sailed to New Bern in 1777. With the cooperation of Governor Richard Caswell, he was allowed into town under a flag of truce long enough to collect some of his goods and servants and to register deeds of gift transferring his North Carolina property to three of his daughters. His will, probated in 1781, specifically mentioned his holdings of proclamation money of North Carolina.
The North Carolina government confiscated Cornell's property despite his efforts and sold it shortly thereafter. In 1787 Elizabeth Cornell Bayard sued Spyers Singleton to recover the Cornell homeplace on lot 10 in New Bern. The case, known as Bayard v. Singleton, set the American precedent for judicial review, and is considered milestone in legal history.
Cornell's bundles of proclamation money, mentioned in his will, apparently remained in the family until 1913 when they were offered, along with papers relating to the litigation over the confiscated property, to the New York Public Library. The papers were published that year as "Papers Relating to Samuel Cornell, North Carolina Loyalist." In the 1970s the library sold the currency in its entirety to a dealer, who put half of the collection up for sale. The other half, representing about forty percent of Cornell's original stockpile and the last remaining intact portion, is now part of the Colonial Williamsburg numismatic collection thanks to an anonymous donor.
---
First North Carolina Colored Volunteers
Marker (C-84) located on Hancock Street near the intersection of New Street
The Emancipation Proclamation authorized recruitment of black volunteers for Federal service beginning on January 1, 1863. Influenced by the success of the 54th Massachusetts, Massachusetts governor John Andrew and General Edward A. Wild saw potential for recruiting former slaves in occupied northeastern North Carolina. Since the beginning of New Bern's occupation in March 1862, thousands of escaped slaves had poured behind the lines seeking freedom and aid. New Bern's large black population and strong support for the Union made it an ideal location for a recruiting station.
In May, Wild began recruiting for the First North Carolina Colored Volunteers (NCCV), placing the regiment under the command of James Beecher, half-brother of writer Harriet Beecher Stowe. He established the regiment's campsite on the "south bank of the Neuse River just outside of New Bern," and the first recruits went to work clearing land and setting up camp and a parade ground. By June 7, two of seven companies were in uniform and all had begun drill instruction. They were mustered in on June 30, 1863.
White soldiers from the Forty-Fifth Massachusetts regiment aided in training. Although the top officers in the First NCCV were white, company commanders chose "promising" enlisted men to serve as sergeants and corporals. Upon the completion of training, the regiment joined others in forming Gen. Edward A. Wild's "African Brigade." During a farewell ceremony held at the Academy Green in New Bern on July 24, 1863, the "Colored Ladies Relief Association of New Bern" presented the regiment a silk flag.
Within a short time the existing black units received orders for Charleston. Officials continued to recruit for the Second and Third NCCV, which took several months to fill and muster. Though the three regiments were intended to form a single brigade, their sequential organization resulted in widely varying "experiences and effectiveness," according to historian Richard Reid. Unlike the Second and Third regiments, the First regiment trained for a longer period of time under the careful supervision of Gen. Wild. Thus, when the First NCCV entered combat, it "was . . . better prepared to fight than most other black regiments."
The regiment "would prove to be both brave and reliable in battle." The regiment spent several months at Folly Island outside Charleston, where on February 8, 1864, Federal authorities redesignated it the Thirty-Fifth U. S. Colored Troops (USCT). The regiment soon deployed to Florida where it fought at the Battle of Olustee. One report stated "no regiment went into action more gallantly or did better execution" than the Thirty-Fifth.
Though the battle was a Federal defeat, the regiment's valor played an important role in changing white attitudes about the capabilities of black troops. Despite heavy losses, the Thirty-Fifth served for the duration of the war. As some of the first of thousands of southern black volunteers, including more than 5,000 from North Carolina, the First NCCV paved the way in demonstrating to the nation the importance of black soldiers to the Union's preservation.
---
Battle of New Bern
Marker (CC-1) located on East Front Street

Prelude: Union General Ambrose E. Burnside's Division captured Roanoke Island on February 8, 1862. This success provided the Union forces with an excellent base for their next operation, the capture of New Bern.
Action: On March 12, 1862, Union land and naval forces under joint command of General Burnside and Commodore S. C. Rowan, arrived at the mouth of Slocum's Creek. Early on March 13 gunboats shelled the nearby woods. Soon Union infantry landed unopposed and began marching in the direction of New Bern, 16 miles northwest.
The Union Fleet moved up the Neuse River to Fisher's Landing where a Confederate force, under Colonel James Sinclair, awaited the Union advance. However, the Confederates were soon driven away by heavy naval gunfire. The Union Army advanced rapidly past the undefended Croatan Earthwork, the first line of Confederate defenses. By nightfall Union troops were only 1 1/2 miles from the main Confederate line, the Fort Thompson Earthwork.
At 7:30 A.M. on March 14 the battle began with an attack on the Confederate left flank by General John G. Foster's Brigade. The Confederates, ably led by General Lawrence O'B. Branch and protected by the heavy guns of Fort Thompson, were able to hold their position.
Soon, General Jesse L. Reno's Brigade attacked the Confederate right flank. Here the Confederate defense line ended at the railroad. About 150 yards to the rear, Colonel Zebulon B. Vance's 26th North Carolina Regiment occupied a line of rifle pits, which extended 1/2 mile west toward Brice's Creek. The weak spot in the Confederate line was the 150 yards of railroad track, guarded by some North Carolina Militia under Colonel H. J. B. Clark. This militia retreated immediately after being exposed to Union gunfire. The 35th North Carolina Regiment, sent to help the militia, soon followed their example. Unsuccessful in their efforts to turn the Confederate flanks, the Union forces were able to exploit this weak spot. After an initial failure, Foster's and Reno's troops, assisted by General John G. Parke's Brigade, managed to occupy the Fort Thompson Line from the river to the railroad. Vance, whose men continued to resist, soon learned that the other Confederate forces were retreating toward New Bern. After some delay Vance managed to withdraw his men across Brice's Creek in the direction of Kinston.
By nightfall New Bern had been occupied by Burnside's Army. The Confederates were in full retreat toward Kinston, 35 miles inland. The victory at New Bern provided the Union Army with an excellent base strategically located on the mainland of North Carolina. The town would remain under Union control for the rest of the war. The stage was now set for the Fort Macon Campaign, March 23-April 26, 1862.
---
Battle of New Bern
Marker (CC-2) located at the New Bern Battlefield Park (owned by the New Bern Historical Society) located off US 70 East and Taberna Way just outside of New Bern
The Croatan Earthwork, an extensive fortification not used during the battle, can be seen 6 3/10 miles southeast of this highway. Here, extensive earthworks can be seen on both sides of the highway in a direct line with this marker.
---
Troops engaged in the Battle of New Bern:
Union: Major General Ambrose E. Burnside - commanding Division; Brigadier General John G. Parke's Brigade; 4th and 5th R.I. Inf.; 8th and 11th Conn. Inf.; Brigadier General Jesse L. Reno's Brigade; 21st Mass., 51st N.Y., 9th N.J., and 51st Pa. Inf.; Brigadier General John G. Foster's Brigade; 23rd 24th, 25th, and 27th Mass. and 10th Conn. Inf.
Confederate: Brigadier General Lawrence O'B. Branch - commanding Brigade; 7th, 26th, 27th, 28th, 33rd, 35th, and 37th N.C. Inf.; 19th N.C. Regt. (1st Cavalry); Captain Thomas H. Brem's and Captain A. C. Latham's artillery batteries. Confederates in Fort Thompson: Captain John N. Whitford's and Captain W. A. Herring's artillery companies. (The men in the other Confederate forts did not directly participate in the battle.)
If you are interested in other historical markers in the state of North Carolina or how to obtain an historical marker, click to the NC historical markers website.
All of the historical marker information found on this page is courtesy of the North Carolina Department of Cultural Resources.