All Lunch & Learn events start promptly at 11:30 a.m. at the Chelsea Restaurant at 335 Middle Street in New Bern. The cost is $18 for Historical Society members and $20 for non-members, which includes a delicious Chelsea entree, bread, dessert, iced tea, and coffee. Reservations and meals must be paid in advance, either online from the Tickets page or by calling the New Bern Historical Society at 252-638-8558. Please select your menu option when ordering.
---
Wednesday, August 15, 2018


"New Tales of Espionage in Civil War Craven County"




presented by Historian & Author Eddie Ellis
In eastern North Carolina during the Civil War, Union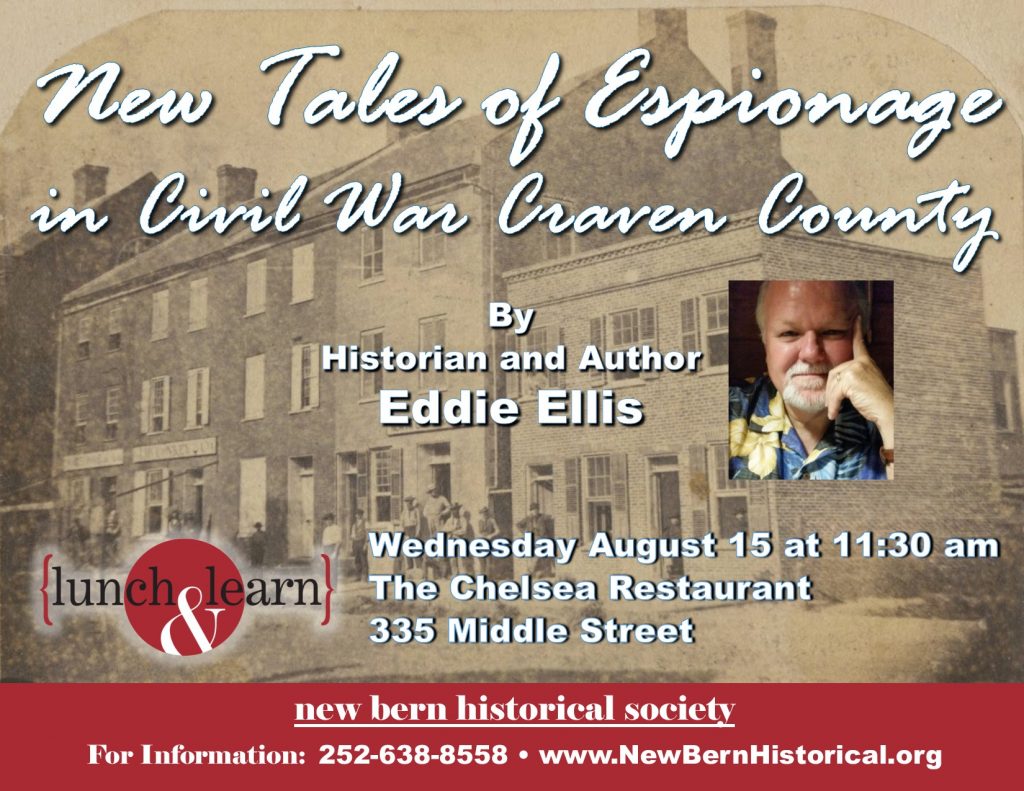 occupiers existed alongside Southern civilians. Military leaders struggled to capture territory, railroads, waterways. One of the most sought-after commodities was information. The Burnside-created enclave of coastal forts strung from New Bern to Fort Macon was the focus of intense intelligence gathering and clandestine shenanigans from 1862 till the end of the struggle between North and South. Spies are, by their very nature, nameless. Fresh analysis of the war's voluminous records, however, now allows us to name names. This program will reveal previously unknown tales of the dark network of Southern secret agents, both men and women, who operated here.
Edward Barnes Ellis, Jr. has worked as a journalist, a lobbyist and a laborer. A native of Craven County, Eddie is the descendant of a family that recorded the first land deed in North Carolina. Among his ancestors are settlers at Jamestown, Va., and veterans of the American Revolution and the War Between the States. He's been hooked on history since elementary school. He served in the N.C. General Assembly for four years as a legislative representative. For most of his career, he was engaged in the newspaper business as a reporter, photographer, columnist, editor and publisher. Eddie is the founder of the Havelock News and the former publisher of Cherry Point's Windsock, and has been the official historian of the City of Havelock since 1984. Eddie has written three histories based on his years of personal research. His 2005 book In This Small Place: Amazing Tales of the First 300 Years of Havelock and Craven County, North Carolina, is the first volume of history ever written about the Havelock-Cherry Point area. His second book, New Bern History 101, a compelling portrait of the city of his birth, received the 2010 Book Award of the North Carolina Society of Historians. His third, a photo book entitled Historic Images of Havelock & Cherry Point, offers more than 170 rare images and detailed descriptions of the community collected over four decades.
Lunch & Learn starts at 11:30 am; early arrival is recommended. Advance reservations must be made here or by calling the New Bern Historical Society at 252-638-8558. Lunch choices are Lemon Chicken or Baked Salmon with champagne dill sauce. Both served with rice pilaf, asparagus and strawberry layer cake, rolls, tea, and coffee. Wine and beer are available for purchase.
Mark your calendars and watch for details on upcoming programs:
Wednesday, September 12:

Lunch & Learn,

 "Historic Riverside Community" by Tim Thompson.
Wednesday, October 10: Lunch & Learn, "Admiral Farragut" 
by RADM Jay DeLoach. 
---
Sorry you missed it!  A look at past Lunch & Learn programs:
Wednesday, May 9, 2018
"New Bern Then and Now: Our Town's History in Photos"

presented by Historical Society Curator Jim Hodges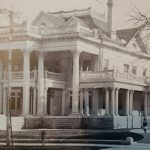 You hear it a lot here in New Bern, "That used to be…." Captain Rattys used to be Duffy's Drug Store,  Morgan's used to be True Tread Tires, First Citizens Bank sits where the Queen Ann Hotel used to be. This Lunch & Learn will reveal past and current status of more than 20 New Bern landmarks. Curator Jim Hodges has scoured the New Bern Historical Society collection to share with you these wonderful images from our past. In some cases, the buildings have been carefully renovated and saved in their original condition. In others they have been saved and re-purposed, while sometimes they are simply, sadly, lost. In any case, you will be fascinated by this visual history tour.
Jim Hodges was reared in New Bern, matriculated to University of North Carolina at Chapel Hill earning an undergraduate degree in Chemistry and a post graduate dental degree. After satisfying a military commitment and enjoying several years of international travel, Jim returned to New Bern and practiced dentistry until his retirement in 2012. His current life chapter involves his passion for New Bern and its rich history as a member of the Historical Society and the Tryon Palace Foundation Board of Directors. As the volunteer Curator of the New Bern Historical Society he spends his days maintaining, conserving and finding ways to share the collection.
Special encore performance of this program on June 27! More details here.
Wednesday, April 11, 2018
"History Stands Around You: The History of the New Bern Academy"
Presented by Historical Architect John P. Wood
Ever progressive, New Bern is full of famous historical firsts, especially in the area of education. First school in North Carolina established by law in 1764? That's the New Bern Academy on New Street! At this Lunch & Learn, John Wood of the North Carolina State Historic Preservation Office will talk about the history and architecture of the well-loved New Bern Academy, including a discussion of the evolutionary changes to the building and an overview of the proposed upcoming exterior restoration.
John Wood is a Preservation/Restoration Specialist for the North Carolina State Historic Preservation Office based in the Eastern Regional Field Office in Greenville, covering the twelve counties in the southeastern region, and managing the Eastern Office's National Register, survey, tax credit, and technical restoration programs. As an architectural historian John has had extensive experience in historic preservation and restoration projects. When not involved in restoration projects, he gives demonstrations of eighteenth- and nineteenth-century blacksmithing, woodworking, carpentry, and house joinery at various museum sites. A graduate of Pennsylvania State University with a Masters degree from the College of William & Mary, he is a member of the Association for Preservation Technology, the Artist Blacksmith's Association of North America, the National Trust for Historic Preservation, and the Vernacular Architecture Forum.
Wednesday, March 14, 2018
"Ordinary Women, Extraordinary Deeds:  A Special Women's History Month Presentation" 
Presented by five costumed historical characters
This program will celebrate Women's History Month with a visit from five remarkable women from New Bern's past. Some will be familiar, others may surprise you. From the 19th and early 20th centuries, and varied walks of life, these women have stories that you'll want to hear.
You'll meet Kady Brownell, a Civil War soldier; activist Sarah Dudley Pettey, physician Lula Disosway, photographer Bayard Wootten, and nurse and businesswoman Charlotte Rhone. These characters will tell you how, while they considered  themselves ordinary women, they left an extraordinary legacy in New Bern. Five local actors, under the direction of Jane Maulucci will portray these women. You'll certainly have fascinating lunch companions.