All Lunch & Learn events start promptly at 11:30 am at the Carolina Colours Pavilion.  The cost is $22 for Historical Society members and $26 for non-members, which includes a delicious entree, bread, dessert, iced tea, and coffee.  Prepaid reservations are required, either online or by calling the New Bern Historical Society at 252-638-8558.  Please select your menu option when ordering.  Paper tickets are not issued; simply check in at the door with your confirmation.
---
Save the date for our next Lunch & Learn!
Carpetbaggers, Scalawags & Spies: Clandestine Affairs in New Bern, 1861-1865
Presented by Author & Historian Eddie Ellis

Monday, January 23, 2023 at 11:30am
at Carolina Colours Pavilion
Popular speaker, author, and regional historian Eddie Ellis' newest presentation reveals little-known stories of spies, lies, schemers, and other shady dealings in Civil War New Bern.
Enjoy a delicious Chelsea lunch while hearing about some controversial behind-the-scenes characters. You'll meet the businessmen who profited off Burnside's invasion of Craven County, secret agents who were protected by the British government, and locals who switched sides for their own financial gain. Ellis will also introduce the Union spymaster and his ring of daring former-slaves-turned-spies. 
The consummate southern storyteller with a deep knowledge of Craven County history, Ellis delights in finding and sharing the untold tales.
He doesn't get to New Bern often, so when he does, you don't want to miss him!
Reservations open December 9
Click here for Ellis' longer presentation on at the Annual Lore Lecture on Sunday, January 22.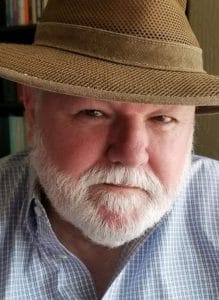 Edward Ellis was born in New Bern and raised in New Bern and Havelock. In his early twenties, he began a career in the newspaper business that included roles as a reporter, editor, and managing editor of the Havelock (NC) Progress, managing editor of the Garner (NC) News, and editor of the North Carolina Farmer. In 1985, under the banner of Ellis Publishing Company, he became the publisher of The Windsock, the official newspaper of Marine Corps Air Station Cherry Point, and in 1986 founded the Havelock News. Eddie began his research on the history of Havelock and southern Craven County in his early teens and was named Official Historian of the City of Havelock in 1984. Ellis has written and spoken about the area's heritage for decades. He is the author of four books, including the popular New Bern History 101: Essential Facts for the Native, Newcomer or Visitor to the Colonial Capital and his most recent, Whispers of the Long Departed: Untold History of Southern Craven County.