---

All Lunch & Learn events start at 11:30 a.m. at the Chelsea Restaurant at 335 Middle Street in New Bern. The cost is $18 for Historical Society members and $20 for non-members, which includes a delicious Chelsea entree, salad, dessert, bread, iced tea, and coffee. Reservations and meals must be paid in advance, either online from the Tickets page or by calling the New Bern Historical Society
at 252-638-8558. Please select your menu option when ordering.
---
SOLD OUT!  Talkin' Tarheel: How Our Voices Tell the Story of North Carolina

Thursday, October 12, 2017
Speaker: Dr. Walt Wolfram, Linguistics Professor & Author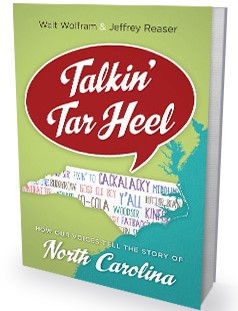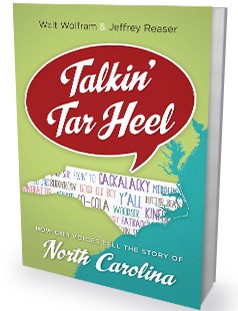 If you've ever spotted a whistle pig or know what a Kelvinator is, then you just might be fluent in Tar Heel. If you pronounce Buies Creek, Cashie River and Chicamacomico like a native, then you might be fluent in Tar Heel. Linguist Walt Wolfram will share stories, sights, and sounds from his book Talkin' Tar Heel: How Our Voices Tell the Story of North Carolina.
"North Cackalacky's" dialects go beyond the stereotypical Southern twang.  Wolfram also explores the distinct dialects of African-Americans, recent Spanish-speaking immigrants, mountain residents, the Cherokee and Lumbee, and the "Hoi Toiders" – High Tiders, a nickname for Outer Banks natives.
Dr. Walt Wolfram is William C. Friday Distinguished University Professor at North Carolina State University, where he also directs the North Carolina Language and Life Project. He has pioneered research on social and ethnic dialects since the 1960s and published more than 20 books and over 300 articles. He has written books on Outer Banks dialects, (Hoi Toide on the Outer Banks: The Story of the Ocracoke Brogue), Lumbee English, Appalachian English, and African American English in North Carolina, and with Jeff Reaser, published Talkin' Tar Heel: How our Voices Tell the Story of North Carolina.
Lunch & Learn starts at 11:30 a.m. at the Chelsea Restaurant, 335 Middle Street, New Bern. The cost is $18 for Historical Society members and $20 for non-members; a delicious Chelsea lunch is included.
This event is sold out.
Save the dates and watch for more on upcoming Lunch & Learn programs:
◊ Wednesday, January 10, 2018 — Kathy Adolph & Tony Salem: Evolution of the Pollock Street Corridor into Downtown New Bern, 1900s to Present
◊ Wednesday, February 7, 2018
◊ Wednesday, March 14, 2018
◊ Wednesday, April 11, 2018
◊ Wednesday, May 9, 2018
---
---
Sorry you missed it!  A look at past Lunch & Learn programs:
For Want of a Railroad: The Battle of Wise's Forks
Wednesday, September 13, 2107
Wade Sokolosky & Horace Mewborn, Authors/Historians
History has relegated the Battle of Wise's (Wyse) Forks, March 1865 near Kinston, to little more than an insignificant skirmish during the final days of the Civil War. Indeed, most histories mention it not at all. Wade Sokolosky will discuss the battle  and his latest book, "To Prepare for Sherman's Coming": The Battle of Wise's Forks, March 1865, which erases this misconception and elevates this battle and its related operations to the historical status it deserves. Horace Mewborn will expand on the battles of the Civil War in eastern North Carolina, covering Wise's Forks, New Bern, Goldsboro and Kinston.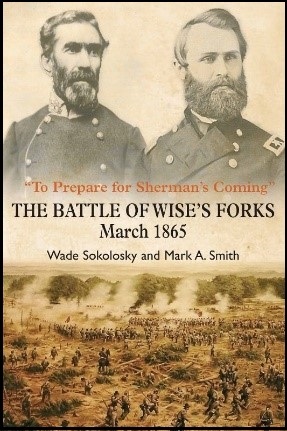 Colonel (Ret.) Wade Sokolosky, a 25-year veteran of the U.S. Army, is one of North Carolina's leading experts of the 1865 Carolinas Campaign. A frequent lecturer and tour leaders, he is also the co-author of "No Such Army Since the Days of Julius Caesar": Sherman's Carolinas Campaign from Fayetteville to Averasboro and the author of "Final Roll Call" Confederate Losses during the Carolinas Campaign." Horace Mewborn is a veteran of the U.S. Special Forces with a career in the FBI.  He has authored five articles for Blue and Gray Magazine and co-authored the book on Mosby's command, the 43rd Battalion, Virginia Cavalry, for the H.E. Howard Virginia Regimental series.  Along with Sokolosky, he is an experienced leader of Civil War battlefield tours.
---
Governor Richard Caswell: The Old North State's First Governor
Wednesday, May 10, 2017
Joe Mobley, Author and Historian
Richard Caswell came to North Carolina at a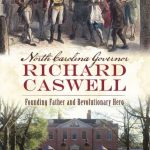 ge 16.  By age 18 he was Assistant Surveyor General for the state.  At age 23 he was Clerk of Court, then High Sherriff.  He went on to serve in the Colonial Assembly for 20 years, then the Continental Congress, and as North Carolina's 1st and 5th Governor. This extraordinary man had been a loyal British subject who fought against the Regulator rebellion, yet he emerged during the Revolution as a vital leader of the Patriot cause and embraced Americas revolutionary fervor.
Joe A. Mobley has worked with the Division of Archives and History of the North Carolina Department of Cultural Resources, serving as archivist, historical researcher and historical publications editor.  Until his retirement, he served as editor in chief of the North Carolina Historical review.  Currently, he teaches courses in North Carolina history at NC State University and Louisburg College.  He has published several works of history, and has won the 2006 North Caroliniana Book Award.  His most recent book is North Carolina Governor Richard Caswell, Founding Father and Revolutionary Hero, and will discuss that at Lunch & Learn.
---
The History of the New Bern Fire Department
Wednesday, March 8, 2017
Chief Bobby Boyd, New Bern Fire-Rescue Department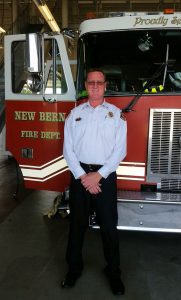 From rivalries to a single unit, from Fred the Firehorse to modern equipment, from pre-Civil War inception to post 9-11 changes. New Bern Fire Chief Bobby Boyd will discuss the evolution of the New Bern Fire Department, the oldest chartered fire department in the state. Join the Chief and the New Bern Historical Society for Lunch & Learn on Wednesday, March 8 at 11:30am at The Chelsea for an interesting look at the Fire Department, its history and its current status.
Fire-Rescue Chief Robert Boyd's career with New Bern Fire-Rescue is in its 31st year. He joined the Department in 1986 as a volunteer firefighter. Following in his father's footsteps, he joined the career forces in 1991. He was promoted to Captain in 1994, Battalion Chief in 2001, Deputy Chief of Operations in 2003 and Fire-Rescue Chief in 2015. His own outstanding history provides a great vantage point from which to consider the department's history.
---
The Rhone Sisters: A Force for New Bern
Wednesday, February 8, 2017


Carol Becton, Retired educator, NBHS board member, community leader
The Rhone sisters – Charlotte, Henrietta, Carrie, and Amy — lived and worked in New Bern from the mid-1870s until middle 1960s, but their legacy as community leaders lives on today. Charlotte was the first African American registered nurse in the state, and perhaps in the country. She was also the first black social worker in Craven County rising to Assistant Superintendent of the County Welfare Department. Deeply committed to rebuilding the black community after the Great Fire of 1922, Charlotte and her sisters were founding members of the Climbers Club in 1921 and were instrumental in opening the West Street Library for blacks. The dynamic sisters owned and managed the Rhone Hotel, one of only a handful of hotels in eastern NC for black travelers.
Retired Trent Park Elementary School Principal Carol Becton will share the story of the Rhone Sisters.  Mrs. Becton worked in the Craven County School System for 34 years, and has served the community on many Boards and organizations. She is an active member of Theta Beta Omega chapter of Alpha Kappa Alpha sorority and the New Bern Climber's Club, serving as chaplain in both organizations. So, she is just the one to tell this story.