All Lunch & Learn events start promptly at 11:30 am at the Chelsea Restaurant at 335 Middle Street in New Bern. The cost is $17 for Historical Society members and $22 for non-members, which includes a delicious Chelsea entree, bread, dessert, iced tea, and coffee. Reservations must be paid in advance, either online from the Tickets page or by calling the New Bern Historical Society at 252-638-8558. Please select your menu option when ordering. Paper tickets are not issued; simply check in at the door with your confirmation.
---

Sold out!
Wednesday, April 8, 2020
The French Lost Colony of Eastern NC
Presented by Dr. Dudley Marchi

11:30 am at The Chelsea Restaurant
To be rescheduled at a date to be announced
"La Colonie Perdue"
Did you know that there is a significant French heritage in Eastern North Carolina?  The first European explorers to this region in the early sixteenth century were French.  Local legend has it that there was even a lost colony of French Huguenots along the Trent River during the early 1700s.  What is the source of this legend?  Was the French colony truly lost?  Our speaker, Dr. Dudley Marchi, will trace the early days of French settlement in this region and explore the subtle but significant French influence that remains to this day.  In French, the word "histoire" means both history and story.  This intriguing presentation will be a mélange of both, conveying the French heritage of NC through images of places, people, maps, and historical documents.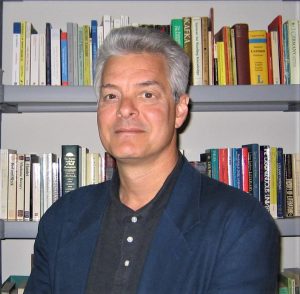 Dr. Dudley Marchi is a Professor of Humanities at NC State University.  He teaches courses on European history, art, and society, and French-American relations, and has an avid interest in the history of North Carolina.  Marchi received his B.A. at UMass Amherst, M.A. at UNC-Chapel Hill, and Ph.D. at Columbia.  Professor Marchi's presentation on "La Colonie Perdue" is part of his larger research project "FraNCe: The French Heritage of North Carolina." 
Lunch & Learn starts promptly at 11:30 am at the Chelsea Restaurant. 
This program is sold out but click here for ENCORE program.
This program will be rescheduled at a date to be announced. If you have a paid reservation for this Lunch & Learn, we will hold your reservation or issue you a refund, at your choice.  Please call the office at 252.638.8558. 
Save the date for upcoming Lunch & Learns and other special programs:
Wednesday, May 13:  Lunch & Learn, Gentle On My Mind, presented by Rodney Kemp.
Coming in June & July:  New Bern on the Move, a pictorial history of house moving in New Bern, featuring Curator Jim Hodges.