All Lunch & Learn events start at 11:30 a.m. at the Chelsea Restaurant at 335 Middle Street in New Bern. The cost is $17 for Historical Society members and $22 for non-members, which includes a delicious Chelsea entree, bread, dessert, iced tea, and coffee. Reservations and meals must be paid in advance, either online from the Tickets page or by calling the New Bern Historical Society at 252-638-8558. Please select your menu option when ordering.
---
Wednesday, October 10th
"Admiral Farragut: The New Bern and Spanish Connections"
Presented by RADM Jay DeLoach, USN (ret)
Sold out!



DAMN THE TORPEDOES!  Did you know that Admiral David Farragut is connected to Eastern North Carolina? And that his father was a Spanish immigrant who fought in the American Revolution? At this Lunch & Learn, Rear Admiral Jay DeLoach will illuminate the lesser-known but fascinating history of this famous Civil War Naval hero.
David Glasglow Farragut was born 15 miles outside the frontier town of Knoxville, Tennessee. At the tender age of nine, he would join the Navy to start his 60-year career in this demanding sea service. Despite his southern roots and southern wife, he remained loyal to the Union in the Civil War. He would later become the US Navy's first admiral after the capture of New Orleans in 1862. This presentation will not, however, explore Admiral Farragut's spectacular Naval career but will dive into his family background with a mother with local eastern NC roots and a father who hailed from a foreign shore across the Atlantic Ocean and came to this country to fight the British during the Revolutionary War.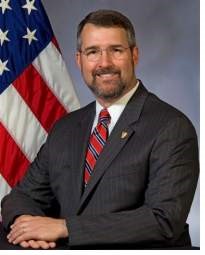 Rear Admiral Jay DeLoach graduated from the U.S. Naval Academy in 1978 and served on submarines as well as several assignments with Naval Intelligence, 7th Fleet, and Joint Staff. He earned three Masters' degrees, in Management, Nuclear Engineering, and National Security & Strategic Studies. He also served as an adjunct professor for the Naval War College and taught Joint Maritime Operations. After retirement from the military, he became a member of the Senior Executive Service in the Department of the Navy and led the transformation of the Naval History & Heritage Command as its 12th Director from 2008-2012. He is currently the Vice President of the New Bern Chapter of the NC Sons of the American Revolution. He is also an active participant on the Historian Committee and the Journal Committee for the New Bern Historical Society.
Lunch & Learn begins promptly at 11:30 am at The Chelsea Restaurant. The cost is $17 for Historical Society members and $22 for non-members; a delicious Chelsea lunch is included. Prepaid reservations must be made online or by calling the New Bern Historical Society at 252-638-8558. Lunch choices are brown butter Barbeque Chicken or Beef Tenderloin with cabernet demi-glace. both served with potatoes au gratin and mixed vegetable medley, rolls, dessert, coffee and tea.  Wine and beer are available for purchase.