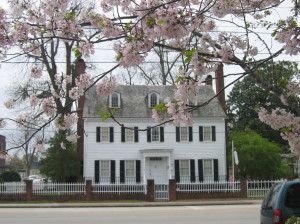 The New Bern Historical Society has been a responsible steward of New Bern's story for more than 90 years
The New Bern Historical Society (NBHS) was founded in 1923 and for more than 90 years has told the story of New Bern by collecting and preserving artifacts and documents important to our state; publishing scholarship that explores our past; and by implementing educational programs that promote a better understanding of our history and the people who make it.
A registered 501(c)(3) non-profit organization, the NBHS relies upon its members and the generosity of individuals, businesses, and foundations to provide needed support for our programs and operations.  Please join us in preserving and sharing New Bern's rich past by making a contribution today.
---
How to Give
NBHS accepts gifts by check, credit card and through PayPal; in the form of securities, and life insurance; as bequests and from qualified retirement plans. Donors may also make a tribute or memorial gift to honor a special person or event. Please note that many companies match charitable gifts made by current employees and retirees; an appropriate form from the employer should accompany a qualifying donor's gift.
Some methods of giving to NBHS may have significant estate planning and tax benefits for the donor. A NBHS representative, along with your financial and legal advisor, can help structure a gift in the manner most appropriate for your individual or family circumstances. All gifts to the New Bern Historical Society are tax-deductible to the extent allowed by law.
For more information, or to make a donation, please contact the New Bern Historical Society. All donations made online will be directed to the NBHS's general operating fund unless otherwise noted.
Show your support of the New Bern Historical Society and Donate online today!