The New Bern Historical Society is proud to own and maintain New Bern Battlefield Park, where nearly one-third of the 1862 Civil War Battle of New Bern occurred. The park is in nearly pristine condition. Unmarked by development or agriculture, the "redans" or fighting positions remain as they were a century and a half ago. You can walk in the footsteps of young Confederate and Union soldiers who were here on that fateful day: March 14, 1862. A large concrete battle map, 36 interpretive panels, free audio tour app, and the self-guided tour brochure providing a comprehensive overview of the battlefield. Click here to learn more about the Battle of New Bern.
New Bern Battlefield Park serves an important role in preserving New Bern's rich heritage and completes the North Carolina Civil War Trail system from Bentonville through Goldsboro and Kinston ending in Fort Macon and Fort Fisher.
Park History
The New Bern Historical Society received the core 24+ acres of the battlefield from the Civil War Preservation Trust, and additional acreage adjacent to that site was later acquired.  Today the Battlefield Park includes over 30 acres of the original battlefield.  With the help of a grant from the Craven County Tourism Development Authority, this site was awarded recognition by the National Register of Historic Places.  
On January 11th, 2009, the battlefield visitor center was dedicated by renowned Civil War historian, Ed Bearss.  In 2014, it was rededicated and renamed the Richard K. and Linda C. Lore Visitor Center in honor of generous benefactors.  An "Investment in History" fundraising campaign raised sufficient funding to install a History Walk and Gateway Plaza with a focus on interpretive signage, completed in October 2015.  The Gateway Plaza leads to a unique 20-foot diameter color ground map and signage that provides an overview of the battle and a starting point for tours.  Around the Visitors Center and along the battlefield trails are 36 interpretive panels that recount the Battle of New Bern and the impact of the Civil War. 
The Park is all volunteer-maintained and fully supported by the Historical Society with no local or government funding.  Donations to help support the Park are always welcome.
Directions to the New Bern Battlefield Park, 300 Battlefield Trail:
From US Highway 70 East - turn on Taberna Way. (from Havelock, turn left; from New Bern, turn right.) Go over railroad tracks. Immediately after, turn left on Battlefield Trail, which leads you directly into the Park.
The Park is open to the public during daylight hours, throughout the year.
Guided Tour Information
Guided tours of Battlefield Park by a trained volunteer guide can be arranged by advance reservation by contacting the New Bern Historical Society at 252.638.8558 (at least 3 days in advance, please).  Guided tours are $5 per person for Historical Society members and $10 per person for non-members.
Guided tours can also be tailored especially for military units and school groups.  The tour is best suited for 5th graders and above or after they have studied the Civil War.  Prices for student groups are generally $2 per student and $4 per adult.  Please contact the office at 252.638.8558 for more information.
Self-guided Tour Information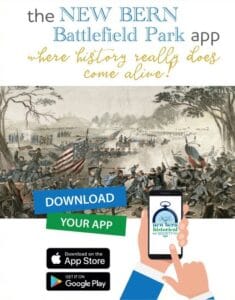 Visitors can tour the park using the large concrete battle map, the interpretive panels, and our self-guided tour brochure providing a comprehensive overview of the battlefield.  New for our visitors in 2021 is the New Bern Battlefield Park audio tour app, available to download on your smartphone from both the Apple and Google app stores.  Narrated by local historians, thespians, and descendants of veterans of this very battle, the app provides an engaging experience for visitors, bringing each trail stop to life.  The app includes all of the battle maps, images, and content from each trail panel, and a live map feature allowing visitors to locate panels from their current location in the park.  The app is great for visitors of all ages.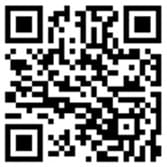 Scan the QR code with your smart phone to download the audio tour app.
Link to our Battlefield Park brochure and map.
Link to desktop version of New Bern Battlefield Park app, to enjoy the tour from home!
Check out Battlefield Adventure Day, a hands-on living history event for the entire family, held each spring, and our free Living History Days held fall and spring.
Battlefield Park Rental
Battlefield Park may be rented for special occasions. Click here for more information.