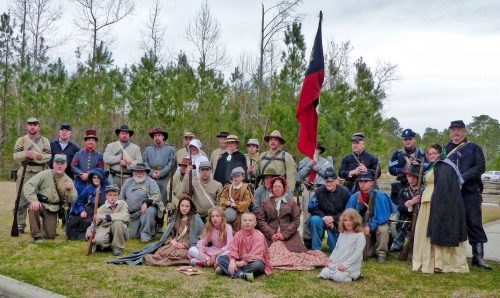 Living History Day
Saturday, October 8
8 am - 4 pm
New Bern Battlefield Park
300 Battlefield Trail
Free and open to the public!
Ever wondered what life was like in your great-grandfather's time? Here's a chance to find out!
Join us as uniformed re-enactors from the 5th and 7th NC Infantry Regiments set up a full period camp at New Bern Battlefield Park. Both Union and Confederate soldiers will be in camp. Demonstrations and displays include a Civil War surgeon's display, weapons display with over sixty original Civil War era weapons, and a Union vivandière's presentation on women spies. You can watch special scenarios, including the trial of a deserter, a surgeon evaluating a wounded soldier, a presentation on fan language by the women during this time, and a depiction of the payroll process.
Schedule of events:

8:30am - Morning Roll Call & Inspection

9am - Infantry Drill

10am - Deserter Scenario

11am - Weapons & Gear Presentation

1pm - Medical Demonstration

2pm - Payroll Scenario

3pm - Fan Language & Discussion on Women Spies