Upcoming Events
Click on event for more details: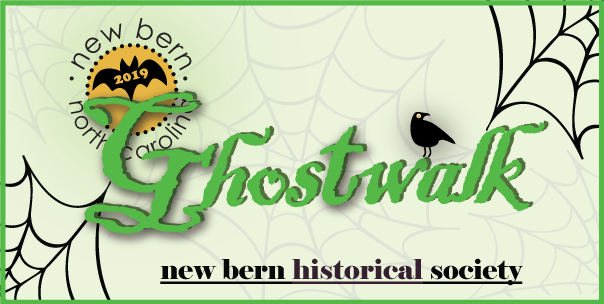 Thursday, October 10:  Sold out!  Lunch & Learn, The Last POW, presented by Steve Tyson.
October 6 & October 17:  Gingerbread Class, at Craven Community College.
Thursday-Saturday, October 24-26:  29th Annual Ghostwalk!  Spirited Skirts and the Shadows They Cast. In various downtown locations.
Wednesday, November 6:  Encore!  The Last POW, presented by Steve Tyson.  6:30 pm at NC History Center.
November 11:  Annual Gingerbread Contest & Display entry forms due. Houses on display Nov. 22 – Dec 30 in various downtown locations.
Sunday, November 17:  Annual Lore Lecture, Retracing John Lawson's Voyage of Discovery, presented by author Scott Huler. 2 pm at Cullman Auditorium, NC History Center, reception following.
Wednesday, December 11:  Lunch & Learn, The Great Fire of 1922, presented by Carol Becton. 11:30am at The Chelsea Restaurant.
Sunday, January 19:  Annual Ed Bearss Lecture, The Fight for the Old North State: The Civil War in North Carolina, January – May 1864, featuring author Hampton Newsome. 2pm at NC History Center.
January 23 – February 2, 2020:  Honour, The Musical, an original musical play based on the Stanly/Spaight duel. Evening and matinee performances. Tickets on sale Nov. 1.
Partner Organization Events: