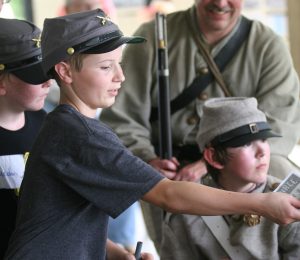 Battlefield Adventure Day
Saturday, March 23, 2019 from noon – 4 pm
Harry Goodman Battlefield Adventure Day is an annual springtime event for the entire family held at the New Bern Battlefield Park, 300 Battlefield Trail.  This Saturday event is filled with learning activities and living history.  Young recruits and their parents are greeted by reenactors from the 5th, 7th and 26th NC Regiments, and artillery from McCullough Living History.  The newly enlisted recruits participate in practice drills, Civil War period camp activities, crafts, and games.  Adults will enjoy living history presentations and a walking tour of the battlefield.  A commissary lunch provided by Moore's Barbecue will be served to the young recruits and parents.  The day's activities will conclude with an exciting mock battle reenactment that includes the children and live fire cannon demonstration.
Battlefield Adventure Day will be held Saturday, March 23, 2019 from noon to 4 pm; check-in at 11:30.  Cost is $10 for first family member, plus $5 for each additional family member, with a $20 maximum for a family.  Pre-paid registration is required.  For more information or to register, please call 252-638-8558.
Discounts for families of active duty military and those eligible for free school lunch program: $5 for first family member; $5 each additional child or adult; family max $10.  For more information or to register your child, please call 252-638-8558.
This event, formerly known as Civil War Adventure Day, was renamed in honor of the late Harry Goodman, beloved New Bern Historical Society board member, who spent countless hours restoring and preserving New Bern Civil War Battlefield Park and volunteering in all aspects of the Historical Society's operations.  This annual event is made possible through the generosity of the Goodman family, Ted & Helen Goodman, and Bill Reight,