2020 Civil War Presentation
The Fight for the Old North State
Presented by Hampton Newsome
Sunday, January 19, 2020
2 - 3:30 pm
NC History Center, 529 South Front Street

Reception and book signing following
You are probably aware of the first Battle of New Berne in 1862 and subsequent Union occupation of the town. But did you know that one of the last successful Confederate offensives centered on a massive resolve to retake New Berne?
In January 1864, Robert E. Lee wrote to Confederate President Jefferson Davis "The time is at hand when, if an attempt can be made to capture the enemy's forces at New Berne, it should be done." Over the next few months, Lee's dispatch would provoke a momentous series of events as the Confederates, threatened by a supply crisis and an emerging peace movement, sought to seize Federal bases in eastern North Carolina. Our speaker, Hampton Newsome, will discuss these operations and place them in the broader context, including a contested gubernatorial election; the social transformations in the state brought on by the war; the execution of Union prisoners at Kinston; and the activities of North Carolina Unionists.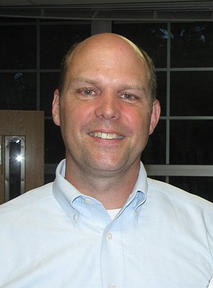 Hampton Newsome is the author of the recently published book The Fight for the Old North State: The Civil War in North Carolina, January-May 1864, which was recently listed in Civil War Monitor magazine as one of the best books of 2019.  He also wrote Richmond Must Fall, which covers the Richmond-Petersburg campaign in October 1864, which was  recognized as a best book of 2013 by Civil War Monitor, and was a finalist for the Richard B. Harwell Book Award given by the Atlanta Civil War Roundtable. Newsome maintains a blog titled "Ransack Garret and Closet," which can also be found on Twitter and Facebook. He lives in Arlington, Virginia and grew up in Richmond; however, with parents from Ahoskie and Tarboro, he has deep roots here in the Old North State.
Books are available for purchase, with a "meet the speaker" reception and book signing following the presentation.
Reservations are strongly recommended and can be made with a suggested $10 donation,
with proceeds going to the History Walk extension project at New Bern Civil War Battlefield Park. 
Make reservations here or by calling the office at 252.638.8558.
This presentation is presented by the New Bern Historical Society in partnership with Tryon Palace.
We are offering Newsome's book The Fight for the Old North State: The Civil War in North Carolina, January - May 1864 for only $30, tax included.  Retail price is $34.95 plus tax.