Join us for the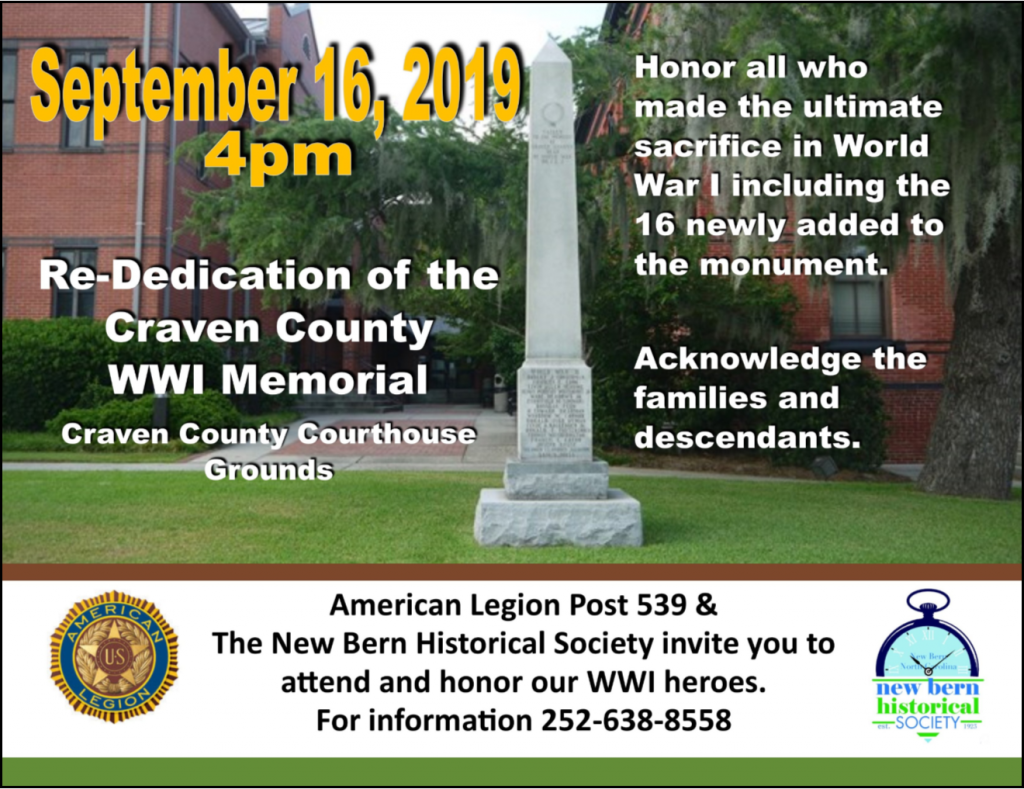 Rededication of the Craven County
World War I Monument
Sponsored by American Legion Post 539
New Bern Historical Society
& Craven County Department of Recreation and Parks
Monday, September 16 at 4pm
on the Craven County Courthouse Grounds
302 Broad Street, New Bern
Come help honor those who made the ultimate sacrifice 100 years ago!
The American Legion was founded by World War I veterans and chartered 100 years ago on September 16, 1919. In celebration and remembrance, American Legion Post 539 and the New Bern Historical Society have partnered with the Craven County Department of Recreation and Parks on a special WWI Memorial Project.
To mark the anniversary, the organizations have updated and cleaned the WWI monument that has stood on the Craven County Courthouse grounds since 1944. Their work uncovered the fact that many local soldiers who died during the Great War were not listed on the monument. After extensive research, the soldiers were identified and their names are being added.  
The renewed monument will be unveiled and all the heroes celebrated in a moving ceremony complete with color guard and 21-gun salute. The public is invited to attend.
A special invitation is extended to the families of those whose names are added to the monument, and whose deeds will be acknowledged for the first time. Please help spread the word to these families.
Names Currently
On Monument
Adams, Daniel Marven
Bennett, John Frank
Civils, Bennie Ormond
Daugherty, John Ephraim
Daugherty, John Clen
Donerson, William Van
Evans, John C.
Everington, David Ruffin
Havens, Alonzo
Hawkins, Raymond William
Henry, Castillia
Hill, James Arthur
Ipock, Jodie Francis
Jenkins, Emmett Joshua
Lancaster, Herman Gardner
Mitchell, William Roy
Parrott, Samuel
Price, Milan Gray
Rea, Kenneth Meredith
Rowe, Depp
Skinner, George T.
Sprill, Joseph
Stallings, Washington Wyatt
Stilley, Burton "Bert" E.
Tilly, Franklin Leach
Toler, William Harvey
Weatherly, William Jesse
Wilson, George Felton
Wise, Sherman
Names Being Added
To Monument
Bissett, Wiley Clifton
Cavanaugh, Macon Earl
Coley, Thomas
Hawes, Dr. Stephen James
Higgins, Elmer J.
King, James
Lofton, Solomon
Midgett, John
Pumphrey, Charles Tilden
Simmons, Peter N.
Stanley, Ernest
Taylor, John Thomas
Thomason, Jasper W.
Thompson, Lawrence E.
Wallnau, Maurice
Wilson, Joseph Powell