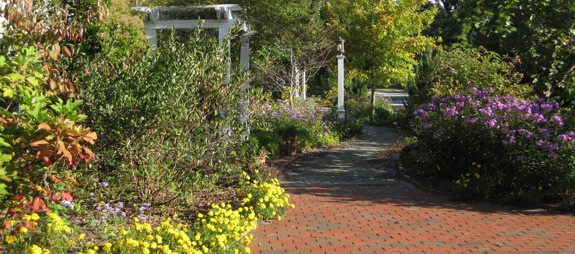 Attmore-Oliver House Garden
The New Bern Historical Society has been landscaping and adding gardens that reflect the era of the Attmore-Oliver House and that will contribute to the dignity and serenity of our property for many years to come. In 2007, NBHS was very fortunate to have the guidance and expertise of Jack Daft and Rebecca Lucas in the design and direction of this landscape project. Daft and Lucas were successful in looking to the stately mature pecan, magnolia, and crape myrtle trees that framed the grounds in finding inspiration for the design of the new garden path gardens. The focus was to add local southern plantings that were original to the site in years past. Generous donations by many members of the Historical Society and New Bern residents have made this a reality. A real blessing was locating Lavinia Cole Roberts' 1885 plant list for her gardens. Roberts was an avid gardener whose family owned the Pollock Street house that anchors this garden and whose brother-in-law, Captain William Willis Roberts, was responsible for bringing the Lycoris Radiata or Spider Lily to New Bern and North America from Japan. Many of the plants from Roberts' list were located on this very site. We were able to choose fifteen old roses from her list along with many other plants. 
For a step back in time, we invite you to come and visit our heritage gardens, open daily during daylight hours. They are a city block deep so you can enter from 512 Pollock Street or the NBHS front gate located at 511 Broad Street. And, if you enjoy gardening or just want to spend some time in the fresh air, we would love to have your help as a garden volunteer. Contact the office if you would like to be a part of this beautiful heritage space.