ABC (Attic - Basement - Closet) Indoor Yard Sale
ABC Sale 2021
Due to the pandemic, we don't have the option of a full indoor ABC Sale for the foreseeable future.
Watch soon for the announcement of an outdoor curated mini-sale of our nicer antiques, furniture and collectibles in the near future.
In order to keep storage costs down and until we know what the future brings, we will only be accepting donated items that fit in that category.
Please call the office if you have any questions. Thank you!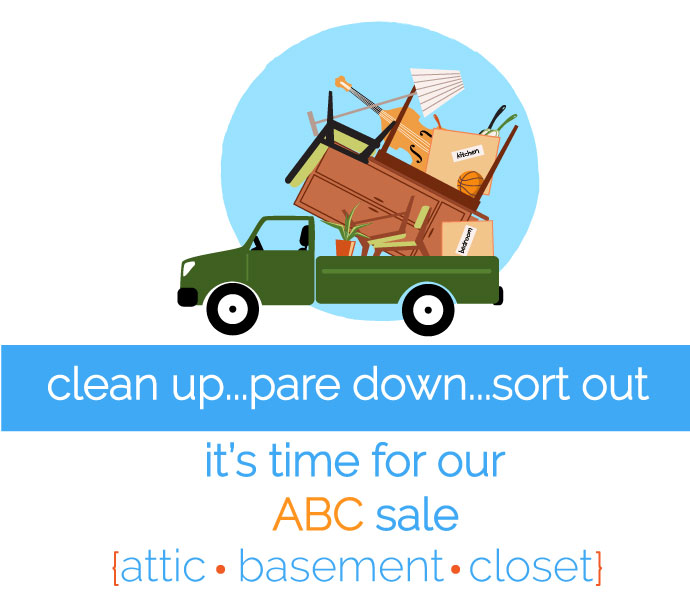 The annual spring ABC Sale is one of eastern North Carolina's largest indoor yard sales, and is one of our biggest fundraisers. All items for sale have been donated to the Historical Society, and they include furniture, antiques, jewelry, kitchenware, glassware, electronics, gifts, toys and much, much more. Our sale is well-known for a wide selection of higher-end, gently used items.
We collect donated items throughout the year.* Bring your boxed donations to the New Bern Historical Society office, 511 Broad Street. A tax receipt will be provided. Need help with furniture or larger items? Call our office at 252.638.8558.
*Please no books, clothes, perishables, car seats, helmets, mattresses,TVs, fiberboard/particleboard furniture, computer monitors or anything that has been in flood water.
We also specialize in selling unique, higher-value items offline from the ABC Sale via eBay or auction. Please consider donating your jewelry, artwork, estate items, even boats and cars. You will be making a valuable contribution to the Historical Society while receiving a tax deduction, and feel good while doing good.  Remember, "one man's trash is another man's treasure." It's the ultimate recycling!
We welcome volunteers to help with sale set-up and furniture pick-ups. Added bonus - volunteers who work at least four hours get the exclusive opportunity to shop at the fabulous ABC Pre-Sale the day prior to the sale!