All Lunch & Learn events start at 11:30 a.m. at the Chelsea Restaurant at 335 Middle Street in New Bern. The cost is $16 for Historical Society members and $18 for non-members; lunch is included. Reservations and meals must be paid in advance, either online from the Tickets page or by calling the New Bern Historical Society at 252-638-8558.  Please select your menu option when ordering.
---
Upcoming programs:
The History of the New Bern Fire Department




Wednesday, March 8, 2017




Chief Bobby Boyd, New Bern Fire-Rescue Department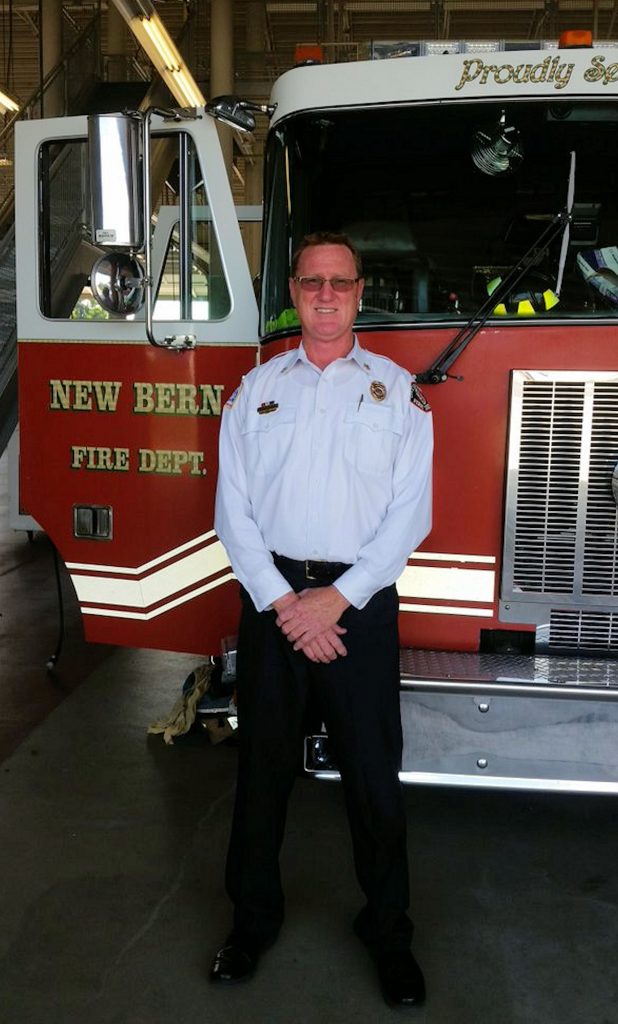 From rivalries to a single unit, from Fred the Firehorse to modern equipment, from pre-Civil War inception to post 9-11 changes. New Bern Fire Chief Bobby Boyd will discuss the evolution of the New Bern Fire Department, the oldest chartered fire department in the state. Join the Chief and the New Bern Historical Society for Lunch & Learn on Wednesday, March 8 at 11:30am at The Chelsea for an interesting look at the Fire Department, its history and its current status.
Fire-Rescue Chief Robert Boyd's career with New Bern Fire-Rescue is in its 31st year. He joined the Department in 1986 as a volunteer firefighter. Following in his father's footsteps, he joined the career forces in 1991. He was promoted to Captain in 1994, Battalion Chief in 2001, Deputy Chief of Operations in 2003 and Fire-Rescue Chief in 2015. His own outstanding history provides a great vantage point from which to consider the department's history.
Lunch & Learn starts at 11:30 a.m. at the Chelsea Restaurant, 335 Middle Street, New Bern. The cost is $16 for Historical Society members and $18 for non-members; lunch is included. Advance reservations must be made in by calling the New Bern Historical Society at 252-638-8558, or can be ordered at www.NewBernHistorical.org/tickets. Lunch choices are Pork Tenderloin with blueberry lemon ginger sauce, garlic mashed potatoes and vegetable medley. Baked Salmon with champagne dill sauce, rice pilaf and vegetable medley.  You will not receive a paper ticket; just pre-pay and check in at the door of The Chelsea.
---
Governor Richard Caswell: The Old North State's First Governor
Wednesday, May 10, 2017
Joe Mobley, Author and Historian
Details to follow
---
---
Sorry you missed it!  A look at past programs:
The Rhone Sisters: A Force for New Bern
Wednesday, February 8, 2017


Carol Becton, Retired educator, NBHS board member, community leader
The Rhone sisters – Charlotte, Henrietta, Carrie, and Amy — lived and worked in New Bern from the mid-1870s until middle 1960s, but their legacy as community leaders lives on today. Charlotte was the first African American registered nurse in the state, and perhaps in the country. She was also the first black social worker in Craven County rising to Assistant Superintendent of the County Welfare Department. Deeply committed to rebuilding the black community after the Great Fire of 1922, Charlotte and her sisters were founding members of the Climbers Club in 1921 and were instrumental in opening the West Street Library for blacks. The dynamic sisters owned and managed the Rhone Hotel, one of only a handful of hotels in eastern NC for black travelers.
Retired Trent Park Elementary School Principal Carol Becton will share the story of the Rhone Sisters.  Mrs. Becton worked in the Craven County School System for 34 years, and has served the community on many Boards and organizations. She is an active member of Theta Beta Omega chapter of Alpha Kappa Alpha sorority and the New Bern Climber's Club, serving as chaplain in both organizations. So, she is just the one to tell this story.
---
Not A Soldier, But A Scoundrel: The Lives and Deaths of George W. Graham
Thursday, October 13, 2016


Heidi Crabtree, Author
 George W. Graham joined the Union Army in 1861. He started out as a 2nd Lieutenant in the 24th New York Independent Artillery and transferred to the 3rd New York Cavalry. He gained some fame as the man who burned the bridge at the Battle of Goldsboro Bridge in North Carolina. However he would soon be remembered more for his pillaging while he was with the 1st North Carolina Union Volunteers. Later, as a commander of the first of the Buffalo Soldier troops, he met Buffalo Bill, served with Medal of Honor winner Louis H. Carpenter, and was suspected of running a gang of horse thieves. After being court-martialed at Fort Leavenworth he moved further west where his reputation as an outlaw and troublemaker followed. By the time he died at the hands of a town fed up with his meanness and attitude, he'd made national newspaper headlines. Despite being the kind of imaginative story one would see in Western pulps, his was quickly forgotten.  
Heidi Crabtree is a military spouse whose interest in the fascinating life of Captain George W. Graham culminated in the publication of the book Not A Soldier, But A Scoundrel: The Lives and Deaths of George W. Graham.  Her  book is the result of three years of research, beginning with the author's discovery of a lone photograph in Kansas, and ending after extensive travel and examination of yellowing papers in various archives. It is not a book detailing Civil War battles or history of the Tenth U.S. Cavalry, but a biography of a soldier who had many chances, and who attempted to rewrite his own history.
---
Mark Twain: Reflections on the Peculiar Institution and Other Reminiscences From His Youth
Wednesday, September 14, 2016

Bill Hand, Journalist/Author/Actor
The Society will start our 2016-17 Lunch and Learn season with a bang!  Local actor, author and reporter Bill Hand will perform a variation of his one-man show, Mark Twain, Day and Night   Hand, a columnist for the New Bern Sun Journal takes on the role of the writer who has been described as "the original rock star." Though known now for his writing, Twain also found fame on the lecture circuit, touring America early in his career and, later, speaking around the world to pay off huge debts. Bill Hand's performance brings those later tours to life, portraying Mark Twain with a mix of his stories and observations about the "damned human race" with stories specifically about New Bern.  Folks that missed his performance earlier this year will want to make sure to attend.
Hand is a reporter and photographer for the New Bern Sun Journal.  He is active in local theatre recently in the role of Willie Loman in Death of a Salesman at Rivertowne Players.  He also directed The Rainmaker at New Bern Civic Theatre.  Hand is writer and director for his own production company, Athens of the South Productions, that is known for its dinner theatre shows.  One of his favored projects is Ghostwalk for New Bern Historical Society where, for more than 20 years, he has directed the ghosts that appear in Cedar Grove Cemetery. On more than one occasion, he has taken on ghostly roles himself.
---
Septima Clark, Citizenship Education, and the Women in the Civil Rights Movement
Thursday, April 14, 2016
Katherine Mellen Charron, Ph.D., Associate Professor of History North Carolina State University
Civil rights activist Septima Poinsette Clark (1898-1987) is best known for her role in developing the Citizenship Schools. She brought four decades of practical experience as a public school teacher and civic activist to bear as she designed the Citizenship Schools. During the 1950s and 1960s, thousands of disenfranchised African Americans passed through Citizenship School classes in which they learned to read and write in order to pass the literacy tests required by southern states to register to vote. Beyond preparing adults to gain access to the voting booth, Clark's curriculum taught students how to wield the power of the ballot to transform everyday life. April's Lunch & Learn program will show that the roots of this program lay in the organizing tradition forged by black women educators in the segregated South and it will also highlight the degree to which the Citizenship Schools represented an important site of black women's activism and leadership in the Civil Rights Movement.
Native North Carolinian Katherine Mellen Charron received her B.A. in Literature at the University of North Carolina-Asheville; her M.A. in Afro-American Studies at the University of Wisconsin-Madison; and her Ph.D. in History at Yale University. Her teaching and research interests include 20th Century U.S. political and social, southern, women/gender, and African American history. Her publications include Freedom's Teacher: The Life of Septima Clark (UNC Press 2009) and Recollections of My Slavery Days, by William Henry Singleton, which she co-edited with David S. Cecelski. Currently, she is an Associate Professor of History at North Carolina State University. 

This project is made possible by funding from the North Carolina Humanities Council, a statewide nonprofit and affiliate of the National Endowment for the Humanities.
---
New Bern as it Really Looked in the 1860s
Wednesday, February 10, 2016
Presented by Peter Sandbeck, Cultural Resources Coordinator for Orange County's Division of Natural and Cultural Resources
As a federally-occupied town throughout most of the Civil War, New Bern was filled with Union Soldiers and their many followers. This occupation attracted numerous photographers who plied their trade all over town, taking both official and personal photos. Their work created a unique photographic record that captured the essence of New Bern as it looked on the eve of the Civil War. No other town in North Carolina and few in the entire south were so completely documented. These photographers necessarily focused on the military personnel who paid for their work, but in doing so, they also created a visual "time capsule" of the town. These images depict a wealth of details large and small about buildings, landscapes, streets, waterways, people and even the town's domestic animals.
Peter Sandbeck is the Cultural Resources Coordinator for Orange County's Division of Natural and Cultural Resources, where he serves as staff for the county's Historic Preservation Commission as well as for its Agricultural Preservation Board. He oversees the care and preservation of 12 county-owned historic properties, including the 1844 Greek Revival-style courthouse and the 1790 Alexander Dickson House, both in Hillsborough. He manages the county's unique "Cultural and Archaeological Policy" which ensures that the county carries out appropriate archaeological and cultural resource surveys as part of every county construction project.
He has an extensive background in historic preservation and restoration in NC, including working as head of the State Historic Preservation Office, regional supervisor of the Eastern Office of the Division of Archives and History in Greenville, and as curator of architecture at Tryon Palace. He held posts as the project administrator for the Architectural Research Dept. at the Colonial Williamsburg Foundation, and as a curatorial assistant with the Philadelphia Museum of Art, where he assisted in the restoration of the 18th century Fairmount Park Houses. Here in New Bern he is probably best known for authoring the Historic Architecture of New Bern and Craven County published in 1988.