All Lunch & Learn events start at 11:30 a.m. at the Chelsea Restaurant at 335 Middle Street in New Bern. The cost is $18 for Historical Society members and $20 for non-members, which includes a delicious Chelsea entree, bread, dessert, iced tea, and coffee. Reservations and meals must be paid in advance, either online from the Tickets page or by calling the New Bern Historical Society at 252-638-8558. Please select your menu option when ordering.
---

Wednesday, March 14, 2018
"Ordinary Women, Extraordinary Deeds:  A Special Women's History Month Presentation" 
Presented by five costumed historical characters, directed by Jane Maulucci, moderated by Kathy Morrison 
We will celebrate Women's History Month with a special presentation featuring some of New Bern's lesser-known but tremendously strong and accomplished women from the past. Costumed actors will portray Kady Brownell, Sarah Dudley Pettey, Bayard Wooten, Dr. Lula Disosway, and Charlotte Rhone. These characters will tell you how, while they considered  themselves ordinary women, they left an extraordinary legacy in the areas of education, medicine, women's suffrage, the church, photography and even soldiering.

Lunch & Learn starts at 11:30 a.m. at The Chelsea Restaurant, 335 Middle Street, New Bern. The cost is $18 for Historical Society members and $20 for non-members; lunch is included. Advance reservations must be made by calling the New Bern Historical Society at 252-638-8558, or can be ordered by clicking here. Entree choices: Chicken Bruschetta with rice pilaf and broccoli or Shrimp & Grits; both are served with rolls, strawberry layer cake, tea and coffee.
Save the dates and watch for more on upcoming Lunch & Learn programs:
♦ Wednesday, April 11, 2018:   History Stands Around You: The History of the New Bern Academy by NC State Preservation Specialist John Wood. 
♦ Wednesday, May 9, 2018:  New Bern Then and Now: Our Town's History in Photos by Curator Jim Hodges.
---
Sorry you missed it!  A look at past Lunch & Learn programs:
Wednesday, February 7, 2018

"Up From Slavery to Freedom: New Bern, North Carolina's Historic 35th United States Colored Troops"
Presented by Bernard George
"Once let the black man get upon his person the brass letters U.S., let him get an eagle on his button, and a musket on his shoulder, and bullets in his pocket, and there is no power on earth or under the earth which can deny that he has earned the right of citizenship in the United States."                                                                             –Frederick Douglass, July 6, 1863
More than 180,000 African Americans fought in the Civil War for the Union Army. New Bern served as the recruiting headquarters for enlisting more than 5,000 soldiers in the United States Colored Troops (USCT). The First North Carolina Colored Volunteers (35th USCT), organized 1863 in historic New Bern, was the first regiment of black Union soldiers formed in North Carolina and one of the first in the South. Commanded by Col. James Beecher (brother of famed abolitionist and author Harriet Beecher Stowe) and staffed by Major John V. DeGrasse, an internationally trained African American medical officer, the 35th USCT is a uniquely significant story that often does not receive the scholarly attention it deserves. Guest speaker Bernard George will discuss the legacy of 35th USCT in the struggle for freedom and citizenship during the American Civil War. George will combine pictures, historical documents and personal vignettes to educate the public and honor the sacrifices of these courageous soldiers.
May 17, 1863 is an important date to New Bern, North Carolina and to the nation because it marks the arrival of thirteen Union officers and a civilian recruiter in New Bern to organize the "African Brigade" — the country's first official major military unit largely made up of escaped slaves and contraband.  This daunting military and social experiment would settle once and for all the unanswered question of the time, "Could the slave be trained to intelligently and heroically fight as well as his white counterparts?" By the end of the Civil War the answer was a resounding "yes" as United States Colored Troops (USCT) had valiantly fought and died in every major campaign of 1864-1865 except Sherman's invasion of Georgia.
Bernard George is a retired city planner and local historian. He has a B.A. degree in Political Science from North Carolina Central University, has done graduate studies in Health Facilities Administration at Webster University in St. Louis, Missouri, and has completed an extensive course of study in Municipal Administration and Urban Planning at the University of North Carolina at Chapel Hill. Bernard has also earned membership in the American Institute of Certified Planners (AICP) and gained state and national recognition for his expertise.  Bernard currently serves on the board of directors of the New Bern Historical Society and was recently appointed by Governor Roy Cooper to serve as a member of the Tryon Palace Commission, and is a member of Tryon Palace African American Advisory Committee.
---
Wednesday, January 10, 2018  "New Bern's Lebanese Legacy and the Pollock Street Corridor: 1900s to Present"
Speakers:  Dr. Katherine Adolph and Tony Salem
Our January Lunch & Learn brings locals Dr. Katherine Adolph and Tony Salem will discuss Lebanese immigration in New Bern in the beginning of the 20th Century, the evolution of the Lebanese community and its impact on the local economy and our neighborhoods including Pollock Street. Drawing from Tony's personal history growing up on the Pollock Street Corridor and Kathy's extensive research, they will share images of Pollock Street in the 1930s and '40s, discuss the decline in the corridor and current plans for revitalization.
Tony Salem is a New Bern native and a graduate of UNC-Chapel Hill. He has been a practicing CPA since 1975 and is currently managing partner of A.G. Salem & Associates, PLLC. He is married to Tresie Hatem Salem who is also a New Bern native. Dr. Katherine Adolph finished a 30-year career as an educational administrator in Denver prior to moving to New Bern in 2005.  Kathy and her husband Peter formed Bern Investment Group, Inc. shortly after their arrival in New Bern. She is president of the corporation and is currently devoting her time to New Bern's revitalization efforts along the gateway corridors to downtown.
---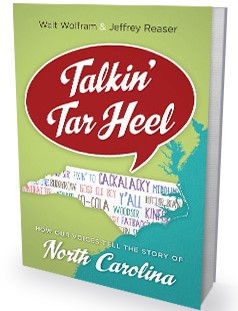 Talkin' Tarheel: How Our Voices Tell the Story of North Carolina
Thursday, October 12, 2017
Speaker: Dr. Walt Wolfram, Linguistics Professor & Author
If you've ever spotted a whistle pig or know what a Kelvinator is, then you just might be fluent in Tar Heel. If you pronounce Buies Creek, Cashie River and Chicamacomico like a native, then you might be fluent in Tar Heel. Linguist Walt Wolfram will share stories, sights, and sounds from his book Talkin' Tar Heel: How Our Voices Tell the Story of North Carolina.
"North Cackalacky's" dialects go beyond the stereotypical Southern twang.  Wolfram also explores the distinct dialects of African-Americans, recent Spanish-speaking immigrants, mountain residents, the Cherokee and Lumbee, and the "Hoi Toiders" – High Tiders, a nickname for Outer Banks natives.
Dr. Walt Wolfram is William C. Friday Distinguished University Professor at North Carolina State University, where he also directs the North Carolina Language and Life Project. He has pioneered research on social and ethnic dialects since the 1960s and published more than 20 books and over 300 articles. He has written books on Outer Banks dialects, (Hoi Toide on the Outer Banks: The Story of the Ocracoke Brogue), Lumbee English, Appalachian English, and African American English in North Carolina, and with Jeff Reaser, published Talkin' Tar Heel: How our Voices Tell the Story of North Carolina.