Virtual Programs
Your Hometown Historians Deliver!
We can't bring you live programming right now but we can give you the next best thing.  We're bringing back some of our most popular, sold-out presentations - All commercial-free and  free of charge (although donations are gratefully accepted).
Watch these great shows livestream on Facebook and interact with the presenters. No Facebook account is required.
Don't do Facebook?  No worries - you can watch any time here on our website beginning the day after the livestream.
How Did We Get Here From There?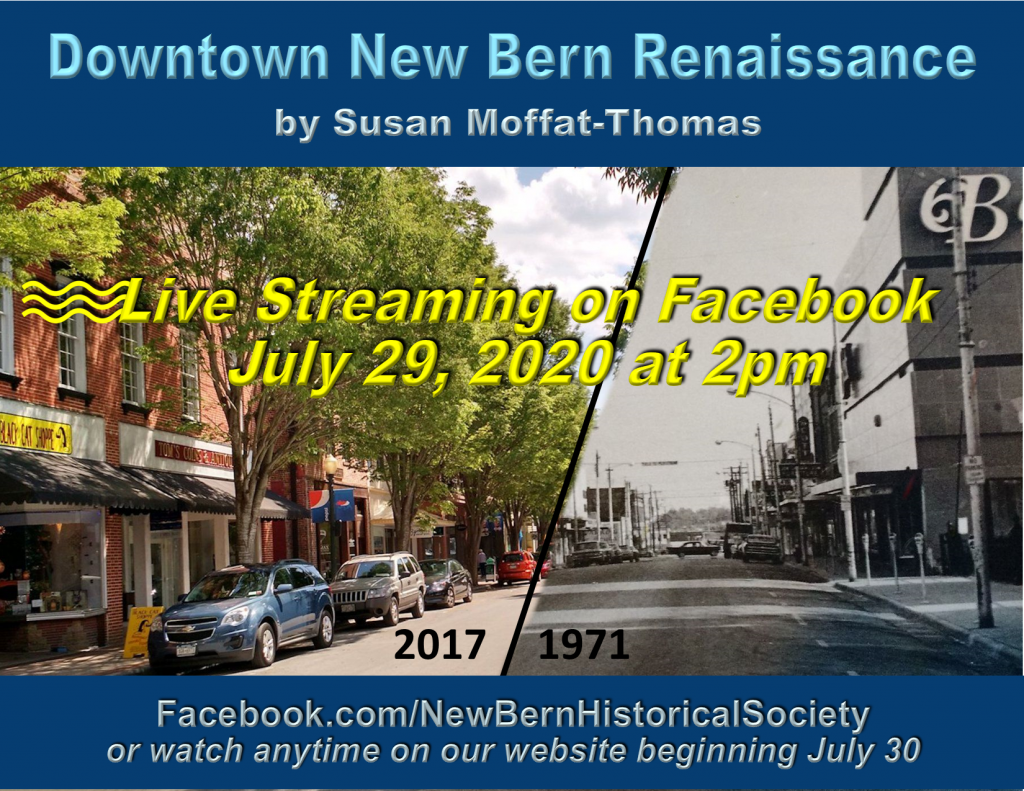 Speaker Susan Moffat-Thomas will describe the 40-year process that brought downtown New Bern from waterfront eyesore to its current beautiful and economically successful state. Learn about the post-WWII decline of downtown, the demolition of its waterfront and how the establishment in 1979 of Swiss Bear, in partnership with local government, was the catalyst for downtown New Bern's rebirth as a vibrant center of civic and social activity. This presentation includes numerous before and after photos that reinforce the dramatic changes that took place over the years.
Susan Moffat-Thomas was Executive Director of Swiss Bear Downtown Development Corporation from 1985-2014. Susan led an award-winning downtown revitalization effort that was recognized nationally as a Main Street success story. Under her leadership, Swiss Bear received numerous national and state awards, and Susan received the Order of the Long Leaf Pine, the Gertrude S. Carraway Award of Merit from the NC Historic Preservation Foundation, Special Recognition Award from the NC Board of Transportation Main Street Champion, among others. 
Casino and Circus and Trolley, Oh My!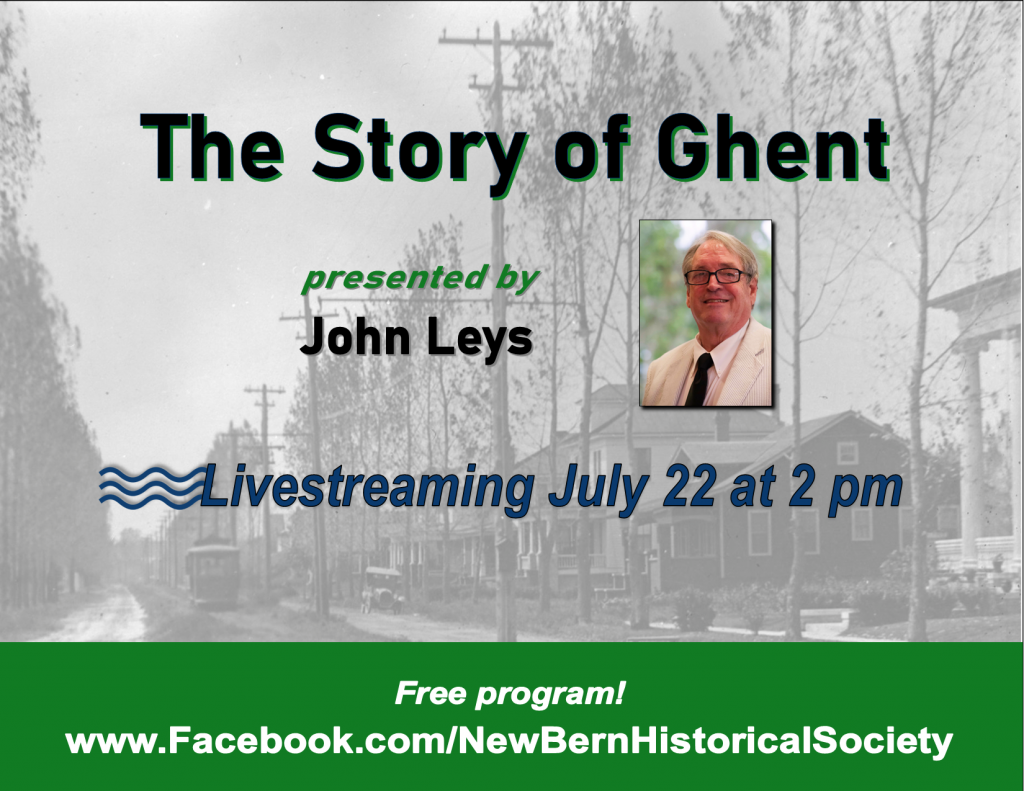 New Bern's second oldest suburb, the historic Ghent community has a lively and vibrant past. The Historical Society's John Leys will take us back to when the neighborhood was developed from the Rhem family plantation and grew as a trolley suburb. He'll recall the Casino with sports events and dances, and reminisce about the coming of the circus. You'll learn about Ghent's distinctive architectural styles, notable neighborhood residents, and the significant influence of the Ghent community in New Bern.
Ghent resident John Leys came to New Bern after finishing his graduate degree at ECU in 1975, and taught in the New Bern school system. After retiring he worked at the Convention and Visitors Bureau, the New Bern Public Library, and Tryon Palace. An active volunteer with the Historical Society, he served on the Board of Directors as the Historian, recently stepping down after ten years of service. John has done extensive research and writing, and written scripts for and acted as a ghost in Ghostwalk and Haunted Evening productions. He has been very active with both the Civic Theatre and Rivertowne Players. 
What a Difference a Day Makes
You've heard the phrase "the perfect storm?" An apt description for the freakish combination of events that drove the Great Fire of 1922 in downtown New Bern. But there was nothing perfect about it.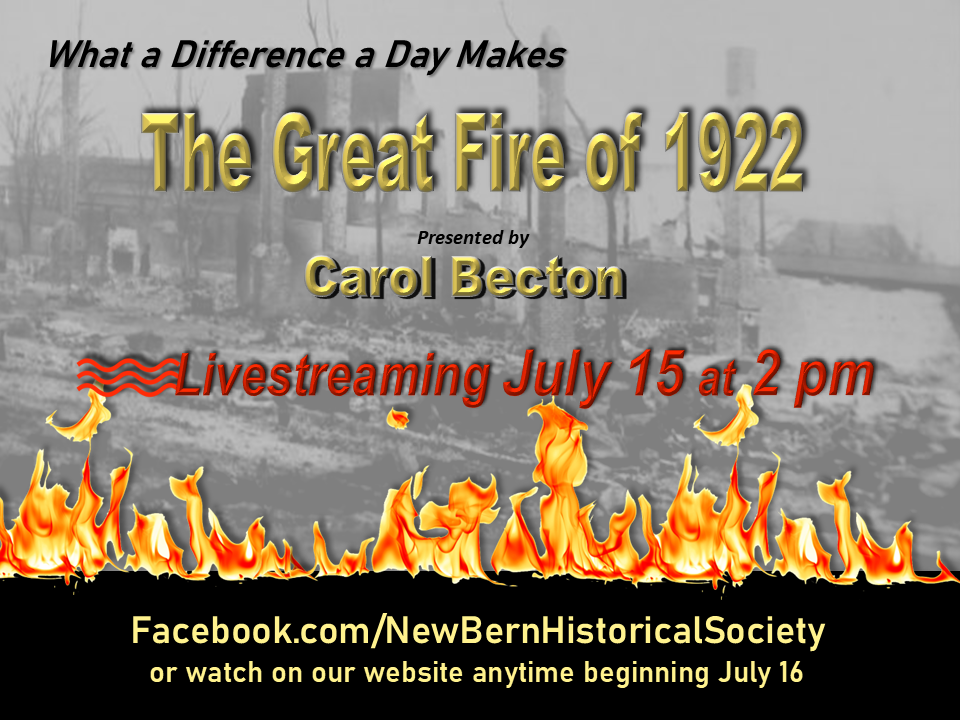 Join us for this free program as speaker Carol Becton recounts the rare circumstances that led to the conflagration, described as the largest urban fire in NC history. The results? Nearly 1000 homes destroyed, some 3500 homeless, the vast majority African American. Hundreds of jobs lost, lives destroyed. Damage estimates were $2.5 million. Becton will describe how and why the economic and cultural impacts of the Great Fire remain to this day.
New Bern native Carol Becton graduated from NC Central University and obtained her Masters Degree in Educational Administration from ECU. Carol was an educator in New Bern City, later Craven County Schools for over 34 years, retiring as a Principal. She is a frequent writer and speaker for the Historical Society and a member of the board of directors, as well as being active on many boards across the area. She is proud to help maintain the legacy of New Bern's rich history and to share the story of our state's Colonial Capital.
A Virtual Tour of Old New Bern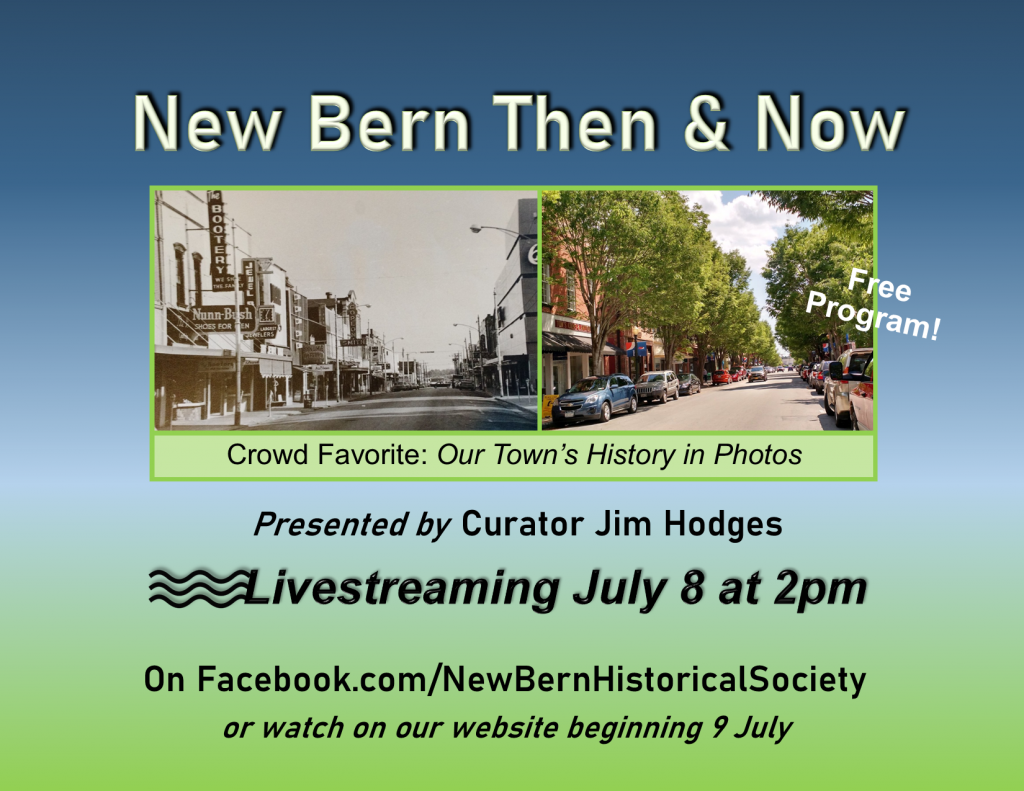 Everyone loves the old stories of New Bern's "used to be". Captain Ratty's used to be Duffy's Drug Store; First Citizens Bank now sits where the Hotel Queen Anne sat. New Bern Then & Now by Historical Society Curator Jim Hodges is one of the Society's most popular presentations, selling out 4 times! 
Jim has scoured the Historical Society collection to share with you wonderful images of over 30 landmarks from our past, contrasted with their current status. You'll be fascinated by these historic images.
Presenter Jim Hodges is a native New Bernian and graduate of the UNC Chapel Hill. After a stint in the military and several years of travel, Jim returned to New Bern to practice dentistry until his retirement in 2012. His current life chapter involves his passion for New Bern and its rich history. As the Historical Society's volunteer curator he spends his days maintaining, conserving and sharing our collection of historical photos and artifacts.
We hope you enjoy our virtual programs.  We're hard at work to bring you more.
You can help!  Please consider making a tax-deductible donation to the Historical Society.  A registered 501(c)(3) nonprofit, we receive no state, federal, or local funding.
Thank you!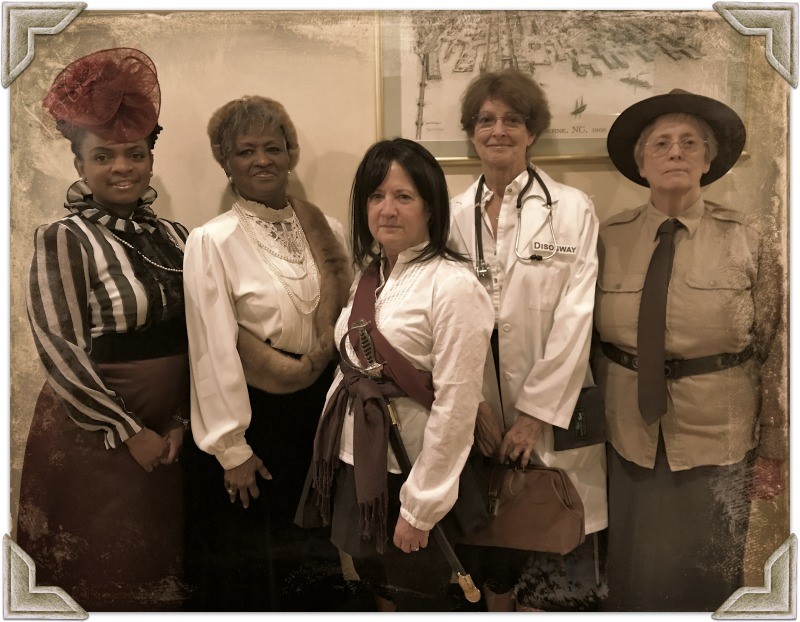 Coming soon!  The return of crowd favorite Ordinary Women, Extraordinary Deeds, featuring the stories of five fascinating women from New Bern's history.  Watch here for details.