Your Hometown Historians Deliver!
We can't bring you live programming right now but we can give you the next best thing.  We're bringing back some of our most popular, sold-out presentations - commercial-free and free of charge
(although donations are gratefully accepted).
Click here for Ghostwalk, The Movie.
North Carolina's Civil War Hospitals
presented by Wade Sokolosky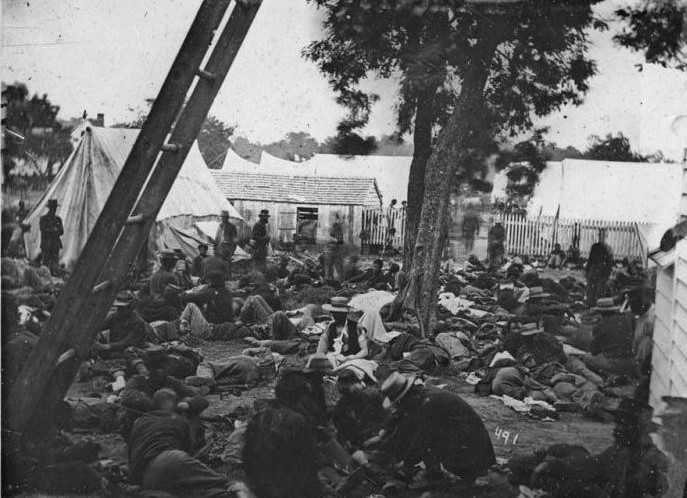 Author and historian Wade Sokolosky discusses the extensive efforts to take care of wounded during the Civil War. At the start of the war there was a misconception that the conflict would be short and not the bloody and drawn-out struggle that ultimately transpired. The horrific losses during this early period highlighted just how ill-prepared both sides were when it came to treating sick and wounded soldiers.
Colonel (Ret.) Wade Sokolosky (Ret.), a native of Beaufort, NC, is a 25-year veteran of the U.S. Army. He is one of North Carolina's leading experts of the 1865 Carolinas Campaign. Wade has lectured throughout the Carolinas, speaking to roundtables, various organizations, and at historical sites. He is the co-author of the award-winning book To Prepare for Sherman's Coming: The Battle of Wise's Forks, March 1865, and No Such Army Since the Days of Julius Caesar: Sherman's Carolinas Campaign from Fayetteville to Averasboro. Wade is also author of Final Roll Call: Confederate Losses during the Carolinas Campaign.
A Distant Mirror: Craven County and Reflections
on the Great War, 1917-1920
presented by Mark Sandvigen
 This is not a presentation about dates and battles but rather a thoughtful look at how WWI brought changes in almost everything: our patriotic values, what was popular, what was funny, and what we would learn. This is a Craven County story as well as North Carolina chronicle covering the societal impact of the Great War and how it changed every facet of our lives. 
Mark Sandvigen, a retired U.S. Naval Officer and senior executive for several Fortune 500 companies, brings a unique perceptive to this forgotten chapter in our history. Mark's interest in the Great War began with his Grandfather who fought in the 91st Pine Tree Division during the 100 days leading to the Armistice. Pursuing his Grandfather's legacy led to walking the battlefields and trenches of the Western Front along with visiting the WWI memorials and museums of the allied powers.
Ordinary Women, Extraordinary Deeds
Don't miss this twice sold-out program!
Celebrate the accomplishments of New Bern's history makers with a virtual visit from five remarkable women. From the 19th and 20th centuries and varied walks of life, these women will share their inspiring stories in their own words. These powerful yet humble characters will tell you how, while they considered themselves ordinary women, they left an extraordinary legacy in New Bern.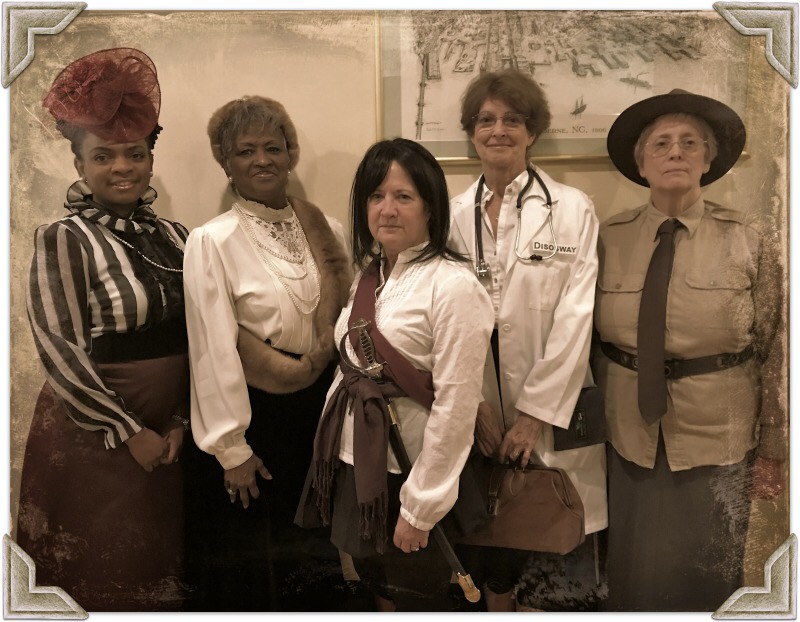 Talented local volunteer actors under the direction of Jane Maulucci
and Kathy Morrison portray these inspiring figures:
How Did We Get Here From There?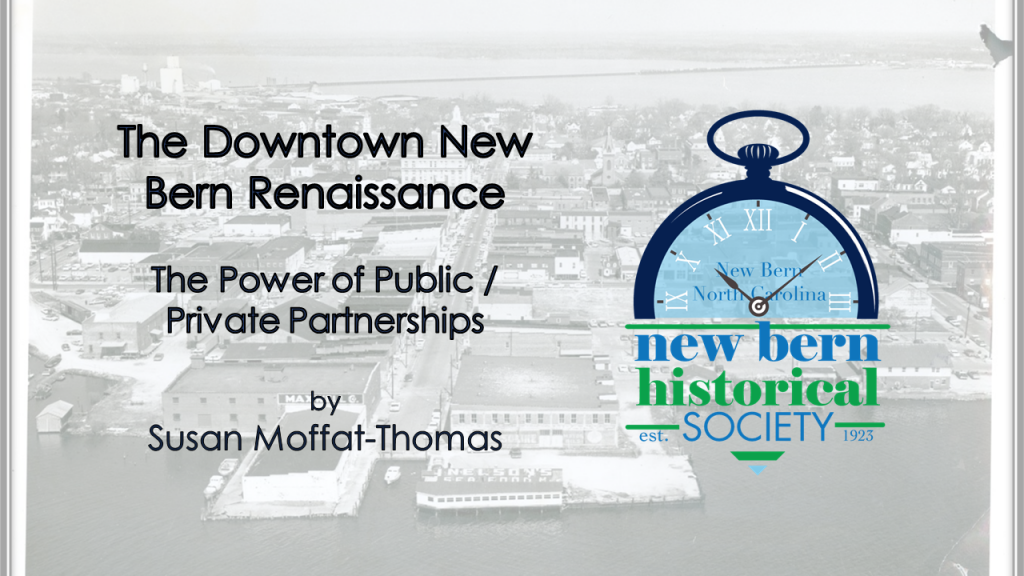 Former Swiss Bear Director Susan Moffat-Thomas will describe the 40-year process that brought downtown New Bern from waterfront eyesore to its current beautiful and economically successful state. Learn about the post-WWII decline of downtown, the demolition of its waterfront and how the establishment in 1979 of Swiss Bear, in partnership with local government, was the catalyst for downtown New Bern's rebirth as a vibrant center of civic and social activity. This presentation includes numerous before and after photos that reinforce the dramatic changes that took place over the years.
Casino and Circus and Trolley, Oh My!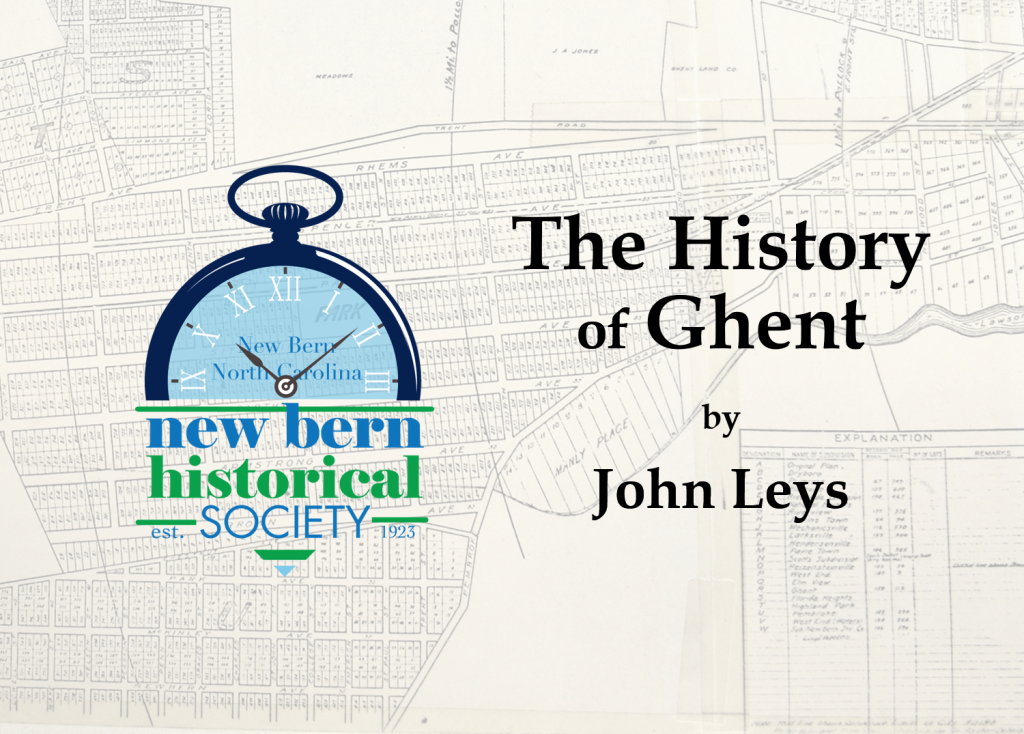 New Bern's second oldest suburb, the historic Ghent community has a lively and vibrant past. The Historical Society's John Leys will take us back to when the neighborhood was developed from the Rhem family plantation and grew as a trolley suburb. He'll recall the Casino with sports events and dances, and reminisce about the coming of the circus. You'll learn about Ghent's distinctive architectural styles, notable neighborhood residents, and the significant influence of the Ghent community in New Bern.
What a Difference a Day Makes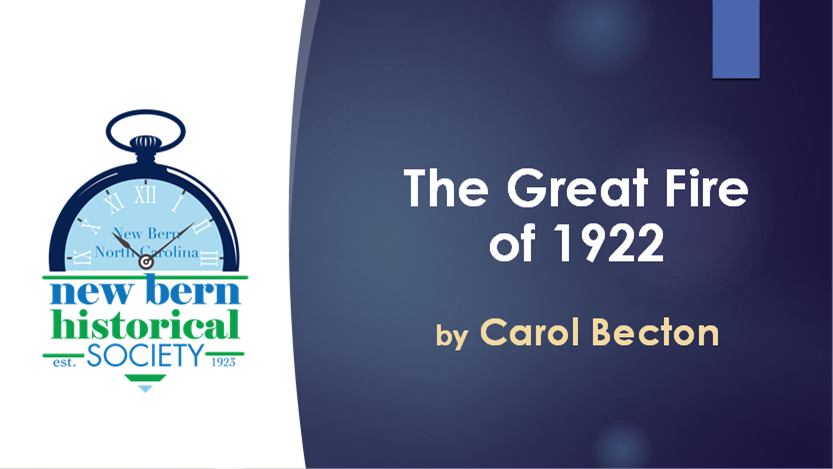 You've heard the phrase "the perfect storm?" An apt description for the freakish combination of events that drove the Great Fire of 1922 in downtown New Bern. But there was nothing perfect about it.
New Bern native Carol Becton recounts the rare circumstances that led to the conflagration, described as the largest urban fire in NC history. The results? Nearly 1000 homes destroyed, some 3500 homeless, the vast majority African American. Hundreds of jobs lost, lives destroyed. Damage estimates were $2.5 million. Becton will describe how and why the economic and cultural impacts of the Great Fire remain to this day.
A Virtual Tour of Old New Bern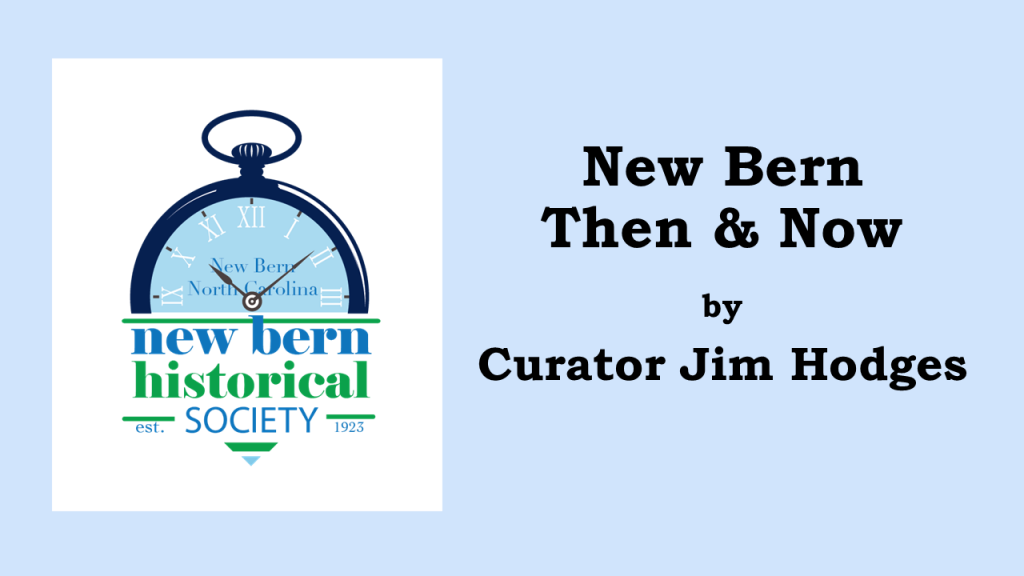 Everyone loves the old stories of New Bern's "used to be". Captain Ratty's used to be Duffy's Drug Store; First Citizens Bank now sits where the Hotel Queen Anne sat. New Bern Then & Now by Historical Society Curator Jim Hodges is one of the Society's most popular presentations, selling out 4 times! 
Jim has scoured the Historical Society collection to share with you wonderful images of over 30 landmarks from our past, contrasted with their current status. You'll be fascinated by these historic images.
We hope you enjoy our virtual programs.  We're hard at work to bring you more.
You can help!
Please consider making a tax-deductible donation to the Historical Society.  A registered 501(c)(3) nonprofit, we receive no state, federal, or local funding.
Thank you!