Your Hometown Historians Deliver!
We can't bring you live programming right now but we can give you the next best thing.  We're bringing back some of our most popular, sold-out presentations - commercial-free and free of charge
(although donations are gratefully accepted).
New Bern Voices in the
Cause of Freedom
presented by Nelson McDaniel
beginning February 24
People of New Bern have contributed greatly to the creation and improvement of the United States and the cause of freedom for 300 years. This fascinating presentation will highlight a few of these major contributors to the cause of freedom, to include the founding Palatines, John Wright Stanly, William Gaston, Abraham Galloway, George Henry White, and Bayard Wootten.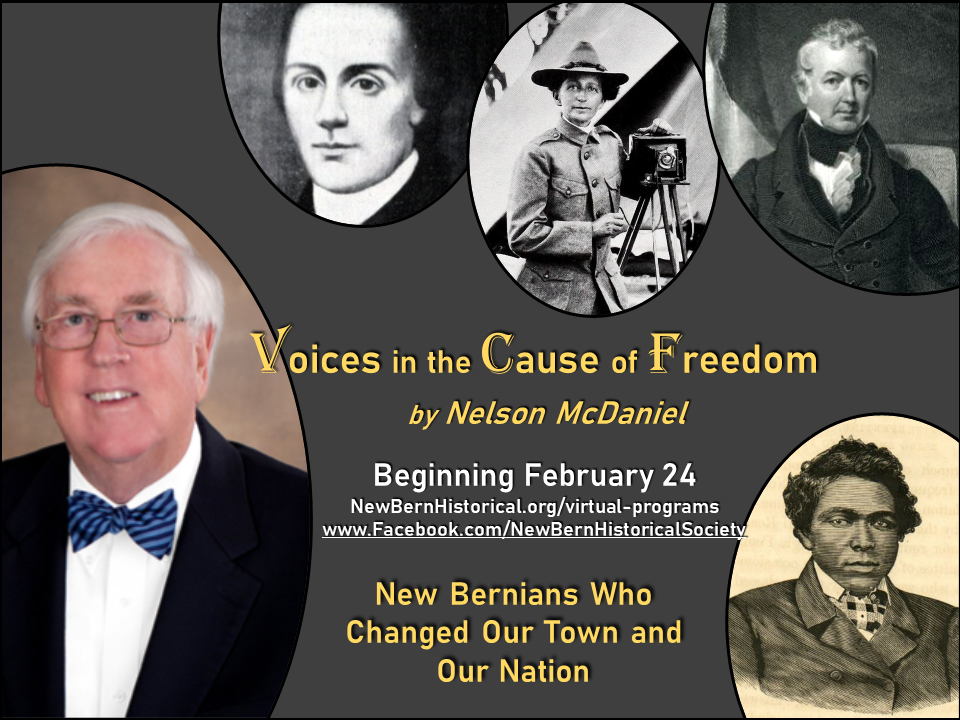 Nelson McDaniel is a respected scholar and Community Fabric Award winner. He was born in New Bern and schooled at UNC Chapel Hill, George Washington and Georgetown Universities, New York University, and the University of Lyon. After his teaching career at Episcopal High School in Alexandria, Virginia, he returned to his hometown where he has served in many volunteer and leadership capacities with the New Bern Historical Society, Christ Church, the Tryon Palace Foundation, Carolina East Foundation, Kellenberger Foundation, Craven Arts Council, and many more.
North Carolina's Civil War Hospitals
presented by Wade Sokolosky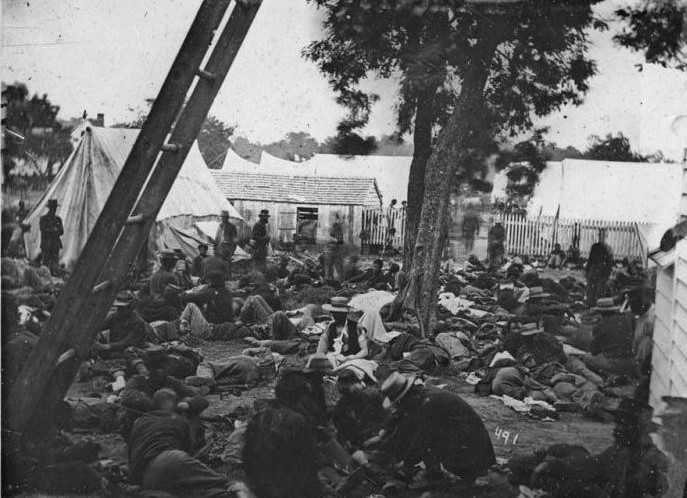 Author and historian Wade Sokolosky discusses the extensive efforts to take care of wounded during the Civil War. At the start of the war there was a misconception that the conflict would be short and not the bloody and drawn-out struggle that ultimately transpired. The horrific losses during this early period highlighted just how ill-prepared both sides were when it came to treating sick and wounded soldiers.
A Distant Mirror: Craven County and Reflections
on the Great War, 1917-1920
presented by Mark Sandvigen
 This is not a presentation about dates and battles but rather a thoughtful look at how WWI brought changes in almost everything: our patriotic values, what was popular, what was funny, and what we would learn. This is a Craven County story as well as North Carolina chronicle covering the societal impact of the Great War and how it changed every facet of our lives. 
Ordinary Women, Extraordinary Deeds
Don't miss this twice sold-out program!
Celebrate the accomplishments of New Bern's history makers with a virtual visit from five remarkable women. From the 19th and 20th centuries and varied walks of life, these women will share their inspiring stories in their own words. These powerful yet humble characters will tell you how, while they considered themselves ordinary women, they left an extraordinary legacy in New Bern.
Talented local volunteer actors under the direction of Jane Maulucci and Kathy Morrison portray these inspiring figures - Kady Brownell, Bayard Wootten, Sarah Dudley Pettey, Charlotte Rhone, and Dr. Lula Disosway.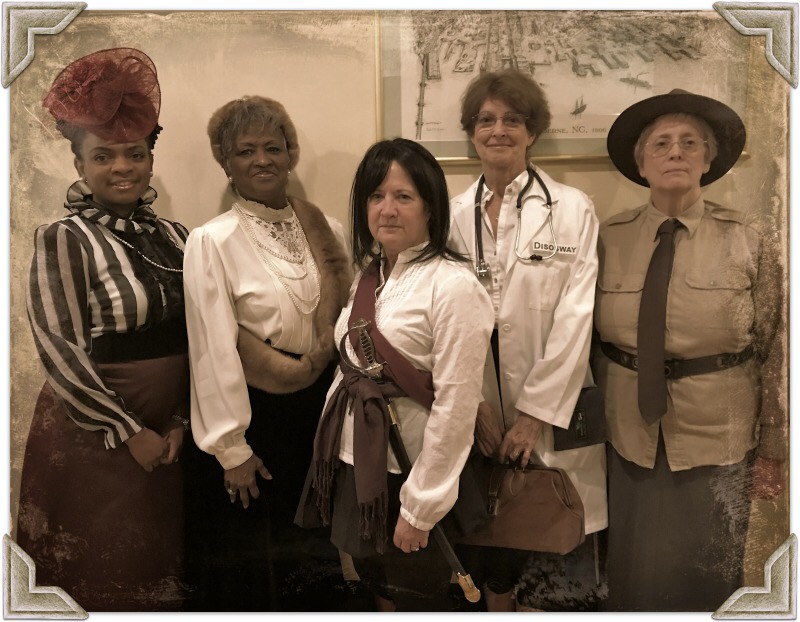 Check out entire our free virtual program library here.
We hope you enjoy our online programs.
We're hard at work to bring you more.
You can help!
Please consider making a tax-deductible donation to the Historical Society.  A registered 501(c)(3) nonprofit, we receive no state, federal, or local funding.
Thank you!