2017 Annual Richard K. Lore Lecture
Recovering the M-4 Enigma Machine, An Oral History
by Jim Bunch: oceanographer, scuba instructor, and author of
"U-Boats off the Outer Banks: Shadows in the Moonlight"
Sunday, November 12, 2:00 pm
Cullman Performance Hall, NC History Center
Join us for this free event!  Reservations recommended due to limited space.
During WWII the German navy used a cipher machine called Enigma to encipher and decipher messages. The machine was onboard of the U-85, one of the U-boats operating off the coast of the Outer Banks, and went down with the ship when it sank in April of 1942. The Enigma machine was not recovered and remained entombed in the U-boat until 2001 when it was found by a team of local divers.
In this fascinating program oral history program, Bunch describes his first-hand efforts in the research, diving, discovery, and recovery of this machine. The presentation also outlines how the Enigma Machine works and its significance in World War II. The recovered Enigma machine is currently on display at the Graveyard of the Atlantic Museum where it was donated by the dive team and the German Government.
About the Speaker: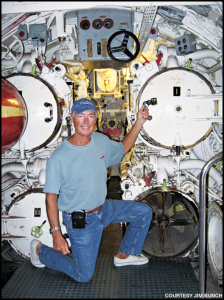 Specializing in oceanography, Jim Bunch earned degrees in marine biology from the University of Miami and from Old Dominion Institute of Oceanography. He worked as an oceanographer for the federal government for many years. Currently, he is Recreational Diving Chair for NOAA's Monitor Marine Sanctuary Advisory Council. As part of his work, he recently explored the three u-boats located just off the NC coast, and is involved in planning their future placement of the Register of Historic Places. An active scuba instructor for 20 years, he has certified hundreds of divers interested in visiting North Carolina shipwrecks. He received the Scuba Schools International Pro5000 award in 1994 for making 5000 dives. He is the author of three books, the 1986 Diving the U-85 , the 2003 U-85 Shadow in the Sea, a Diver's Reflections, and the newly-released U-Boats off the Outer Banks, Shadows in the Moonlight.Books will be available for purchase. 
This free event will be followed by a light reception.  We expect a large audience so advance reservations are recommended.  Make your reservation by calling 252.638.8558 or by email to adminoffice@newbernhistorical.org.   
This event is presented by the New Bern Historical Society in partnership with Tryon Palace and the DoubleTree by Hilton New Bern – Riverfront. 
The Richard K. Lore lecture is made possible by funding from the North Carolina Humanities Council, a statewide nonprofit and affiliate of the National Endowment for the Humanities.