Annual Ed Bearss Presentation
  (rescheduled from Jan 2018)
"Had I Been A Civil War Soldier: A Historian Reflects on Medical Conditions from the Civil War to WWII."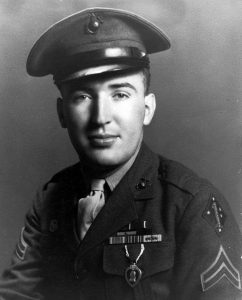 Sunday, July 22
From 2 – 3:30 pm
At Cullman Auditorium, NC History Center, 529 South Front Street
Reception following the program
How many WWII veterans are left to tell us about their wartime experiences?  After being "weathered out" in January of this year, this 95 year old WWII veteran and supporter of New Bern's Civil War Battlefield Park has insisted on completing his 12th annual visit here!  Bearss fought in WWI with the 3rd Marine Raider Battalion in the invasion of Guadalcanal and the Russell Islands and with the 7th Regiment, 1st Marine Division, in New Britain.  In 1944, he was severely wounded by Japanese machine gun fire and spent 26 months recovering in various hospitals.  This year's presentation will focus on the evolution of military medical conditions and treatments and the possible outcome if he had incurred his extensive injuries during the Civil War.
Ed Bearss served as Chief Historian of the National Park Service from 1981 to 1994 and is now their Chief Historian Emeritus.  He is a renowned military historian, an author known for his work on the American Civil War and World War II eras, and a popular tour guide of historic battlefields for The Smithsonian Associates.
This Congressional Gold Medal nominee continues to share his vast knowledge and passion for history.  Civil War students clamor to hear him speak.  At 90+ Bearss still leads numerous tours around the United States, the Pacific, and Europe.  He has been named by Smithsonian Magazine as one of the "35 Who Made A Difference," along with the likes of Maya Angelou, Steven Spielberg, and Sally Ride.  Don't miss the opportunity to hear this icon in the history community.
Bearss was instrumental in researching and planning the restoration of New Bern's Civil War Battlefield Park.  Your tax-deductible donation of $10 per person to attend this lecture will go entirely to support the New Bern Battlefield Park.  
This will be a sellout, so make your reservation now!  To reserve a seat and make your tax-deductible donation by phone, call the New Bern Historical Society at 252-638-8558.  Click here to pre-pay online.  Reservations with donation from the cancelled January event will be honored – please call the office to confirm your seat.
No paper tickets will be issued for this event; simply check-in at the door.  Limited seating without reservations will be available on a first-come, first-serve basis.
 This lecture is presented by the New Bern Historical Society with the support of the
New Bern Civil War Round Table and Tryon Palace.