The Attmore-Oliver House
Administrative offices of the New Bern Historical Society
For over a century and a half, this historic house was home to members of three prominent New Bern families: Chapman; Attmore; and, Oliver. The house, known locally as the Attmore-Oliver or "A-O" House, was built in two stages. The initial construction dates from about 1790 and the enlargement of the building about 1834-1835.
The original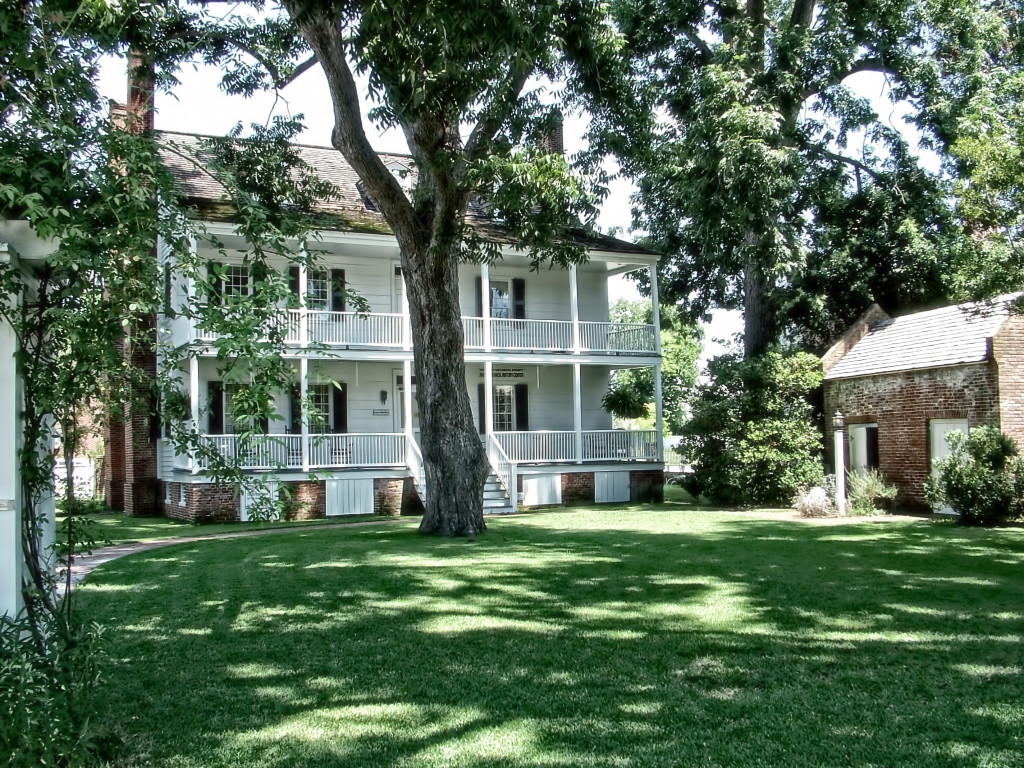 house was built for Samuel Chapman, a retired officer in the Continental army and clerk of the Craven County Supreme Court. It was a story and a half frame building in a vernacular cottage style. Regrettably, no images of the structure survive. At Chapman's death in March 1807, the house passed to his daughter Caroline. In 1834 Caroline, who had moved to New York, decided to sell her New Bern properties. The buyer of the Broad Street house was Isaac Taylor, a prominent New Bern maritime merchant. Taylor purchased the building for his daughter Mary, her husband, George Sitgreaves Attmore, and their young family. With the size of their family already increasing, the Attmores may have found the original 1790 building too small. The enlargement and modification of the house probably occurred about this time.
The new building incorporated the original structure and also introduced elements of the newly fashionable Greek-Revival style. The Attmore-Oliver House is one of the earliest examples of this popular architectural style in New Bern. The rear façade of the house, with its two-story porch and unornamented finish, echoes the appearance of the original house. It is in high contrast to the elegant Greek-Revival front façade.
When Isaac Taylor died in 1846, the Broad Street house passed to his daughter Mary Taylor Attmore and her husband, George S. Attmore, and eventually to their eldest child, Hannah Taylor Attmore. Hannah and her husband, William Hollister Oliver, were the next occupants of the house. Their daughter, Mary Taylor Oliver (1859-1951) inherited the house in 1908. A spinster, "Miss Mary" was the last family member to reside in the Broad Street house. On her death in 1951, the property was willed to her nephews, who sold it to the Historical Society in 1953.
In the summer of 2011, the administrative offices for the Society returned to the Attmore-Oliver House. The main office is located on the first floor. The director's office and the curator's office are on the second floor. Three room installations –Dining Room, Parlor and Sitting Room—provide the background for life in New Bern in the mid-nineteenth century. An exhibit of Civil War artifacts on the first floor tells the story of the Battle of New Bern and the after effects. Click here to download a self-guided tour of the Attmore-Oliver House.
Most of the furnishings in the house did not belong to either the Attmore or Oliver families. They were donated to or purchased by the New Bern Historical Society.